On Friday, 09 October 2020, Bali's Search and Rescue Officers (Basarnas Denpasar) continue to look for 11 crew members of a local fishing vessel KM Tanjung Permai that sank in the Badung Straits. On Tuesday, 06 October 2020, the ship sank after its Captain sent a radio communication that the vessel was leaking.
Nurohman (30), a member of an original 12 seaman crew, was found alive on Thursday, 08 October 2020, clinging to flotsam in the Indian Ocean near Uluwatu. Nurohman was rescued by a passing boat and brought back to the Port of Benoa in Bali. The seaman had managed to survive three days without food and water, floating in the sea.
Search and rescue vessel and a helicopter have been used in the search for the missing local fishermen.
As reported by NusaBali, Gede Darmada, the chief of the Bali Search and Rescue Team, says that five days of morning-to-night searches have failed to find any signs of the missing vessel or its crew. The search teams have primarily focused on the areas surrounding where Nurohman was rescued.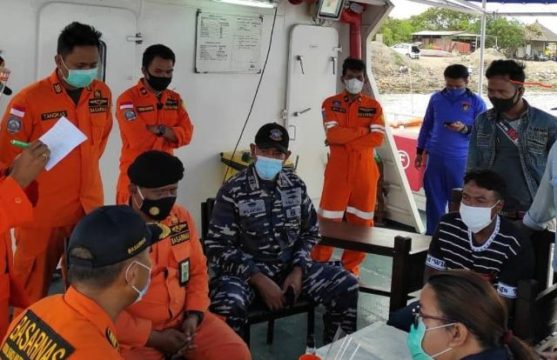 Kompas.com reports that Nurohman tells how the boat began taking on water at 11:00 pm on Monday, 05 October 2020, while sailing in high seas near Bali's Uluwatu Temple. Together with five fellow crew members, he jumped into the sea, after which they became separated while floating in the turbulent waters. When Nurohman jumped into the sea, he said there were still six seamen on board the sinking vessel.
The KM Tanjung Permai is a fishing boat owned by PT Lianti Abadi. The ship specifications state that its length was 17.89 meters and width 4.6 meters.
Raising questions on the fishing boat's basic seaworthiness and the regulatory vigilance of the Port Master (Syahbandar) who approved the vessel's sailing permit, Nurohman told Kompas.com that the KM Tanjung Permai carried no life jackets of flotation devices. The communication equipment on the boat was also limited.
The vessel was not equipped with an EPIRB Transmitter (Emergency Position Indicating Radio Beacon) that would have immediately and automatically broadcast the sinking ship's location.