12 Indonesian crew members from a Japanese fishing boat who arrived in Bali's Port of Benoa on Friday, 29 January 2021, were placed in immediate quarantine by port health officials.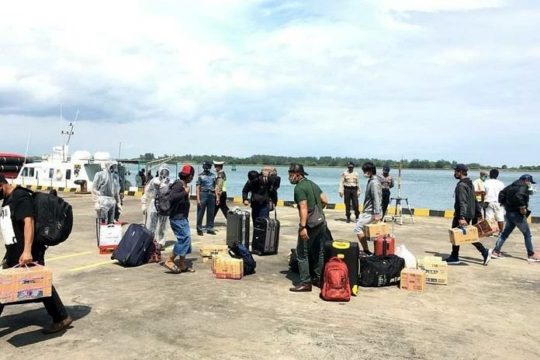 The MV Yahata Maru-68, with a total crew of 24 seamen, disembarked 12 Indonesian crew members in Benoa.
Dr. Jefri Sitorus, the head of the Port Health Office, quoted by Balipost.com, confirmed that he had ordered the 12 crewmen to isolate at the Hotel Yani, located near the Port of the Port Benoa. "Following the Director-General of Sea Transportation instructions, the 12 seamen underwent PCR Swab Tests for COVID-19 in the arrival terminal and were immediately sent for five days quarantine at the Hotel Yani. They will undergo another swab test in five days," explained Dr. Sitorus.
The 12 Indonesia seamen had completed their work contract on the MV Yahata Maru-68 and were delivered back to their home country by their employer.
Port authorities cleared the ship and its remaining crewmen by issuing a Certificate of Pratique (COP) and Port Health Quarantine Clearance (PHQV) that allowed the ship and its remaining crew to set sail for Japan.