The 14th Denpasar Festival (Denfest) held to support small and medium-sized businesses in Bali ended on Thursday, 23 December 2021. This year's annual street bazaar in Bali's capital city only managed to generate revenues of Rp. 492 million for the clothing, culinary, and handicraft traders participating in the two-week-long event.
As reported by Balipost.com, the street bazaar held on Jalan Gajah Mada and in the area surrounding the Catur Muka Statue has experienced a drastic decline in sales. Total sales in 2021 of Rp. 492 million compare poorly with the Rp. 3.3 billion turnover in sales in 2020 and the Rp. 7 billion achieved in 2019.
Dezire Mulyani, the head of the tourism service for Denpasar municipality, said that on Saturday, 25 December 2021, the number of small and medium-sized traders participating in Denfest was also on the decline. The 2021 Denfest only attracted 71 traders compared to 1,255 traders in 2020.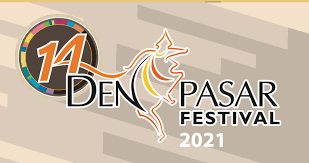 The 2021 Denfest also decentralized its activities by spreading bazaar activities across four districts of Denpasar instead of a single, centralized operation at past Denfest events.
Denfest 2021 activities were held at:
The Wantilan of Desa Adat Poh Gading in North Denpasar
Banjar Abasan Tegal Buah in West Denpasar
Wantilan Pengerebongan Kesiman in East Denpasar
Wantilan Desa Adat Renon, Mertasari, and Muntig Siokan
Denfest 2021 was financed from the annual budget (APBD) for the Municipality of Denpasar in the amount of Rp. 3.5 billion.
This year's event involved 926 artists, 215 musicians, 71 small and medium-sized traders, and 20 filmmakers.