A 16-year-old Balinese student, identified for privacy reasons only with the initials I G NEP, has died from a dagger wound suffered while dancing the role of Rangda in a traditional dance portraying an age-old battle between good and evil.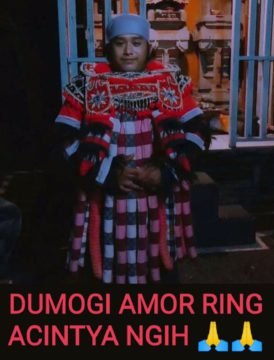 The dance often culminates with a group of male dancers and the fearsome witch Rangda becoming possessed, falling into a frenzied trance, attempting to stab themselves with traditional daggers (Keris).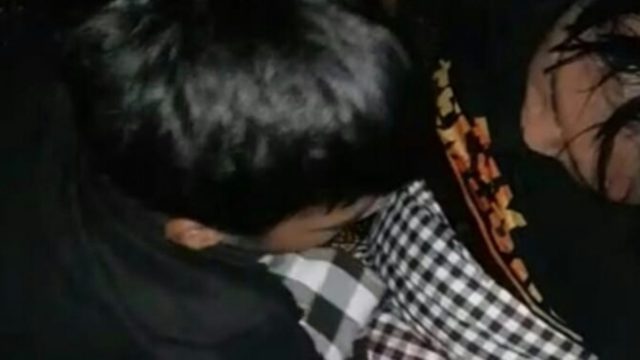 While the dancers direct the daggers' points onto their bare chests with force sufficient to cause the blades to bend, for reasons understood by the Balinese as mystical, injuries to the dancers are exceeding rare.
As reported by RadarBali, the fatal incident occurred on Jalan Sutomo Nomor 44, Pemecutan, Denpasar, in the early morning hours.
As part of a Napak Pertiwi Ceremony on Pagerwesi Day, together with seven other dancers, I G NEP performed a sacred dance accompanied by a gamelan group, witnessed by some 30 spectators. At one point in a sacred dance, IG NEP, dressed as Rangda – the fearful Leyak or demon-queen witch, was surrounded by dancers in a trance who, as seen in video of the incident, one of which appeared to have stabbed the boy in heart with a ceremonial dagger.
The crowd quickly subdued the mortally wounded boy and rushed him to the Wangaya Hospital in Denpasar, where the boy was declared dead on arrival.
Commenting on the death, the head of the Denpasar Police Precinct, Jansen Avitus Panjaitan, quoted by news.id, said: "We live in Bali – an island that is imbued with ritual and tradition. Whether there was an element of criminal intent or what in this death, requires we consult with traditional figures in Bali."
Tribun-Bali.com reports that the boy's family, speaking through a spokesperson, have accepted their grandson's death and asked for the community's prayers during this tragic period. The boy was an orphan whose parents had died two years ago who lived with a younger sibling and his grandmother. The deceased teenager was widely known as an excellent student and an immensely talented traditional dancer, able to perform a wide range of lead roles from the Indonesian dance repertoire.
Living with his grandmother and a younger sister in simple circumstances, he was, despite his young age, the chief breadwinner of his family.
The Funeral Rites
The young dancer's body was cremated in the Hindu cemetery (setra) at Dalung, North Kuta, on Sunday, 07 February 2021.
Following Balinese custom intended to ensure a peaceful repose of IGN NEP's soul, the deceased's teeth were cut and filed in a metatah ceremony. In life, the tooth cutting ceremony is performed on most Balinese as they approach adulthood to impart a certain refinement on the recipient's personality and soul. However, when death occurs before the metatah ceremony has been performed, it is not unusual for those charged with preparing a body for a cremation to file the corpse's teeth as a final service and respect to the newly departed.
Once priests filed the boy's incisor teeth and the body ritually bathed, friends and family briefly marked the IGN Nep's birthday (otonan) – an event celebrated once every 210 days on the Balinese calendar. This was followed by a pamerasan ceremony – a ritual to console the boy's soul, assuring him that any unfinished duties and responsibilities will be assumed and handled by his surviving relations. At this point, the body was cremated, and his ashes committed to the sea.
The surviving grandfather of IGN Nep, Suardana, told those attending the funeral ceremony that he accepted the passing of his beloved and popular grandson and that his family did all in their powers to fulfill ritual requirements, so his journey in the afterlife goes well.
Suardana remembered his progeny as a talented dancer and musician who often worked as a tabu (traditional drum) teacher. Adding: "My grandson was truly talented. Our entire family is proud to have such a multi-talented grandchild who was much in demand by the public."
Reflecting on the boy's death, Suardana said the lesson to be learned from the tragedy is that sacred dance roles, such as the fearsome leyak Rangda, should not be undertaken by children.