NusaBali.com reports that a Gianyar Regency Youth Group – Pasikian Yowana Kabupaten Gianyar (Yowana), has reacted to a suggestion advanced by the Provincial Cultural Department (Disbud) to ban the annual Ogoh-Ogoh Festivals in 2024 to avoid any possible conflicts between traditional Balinese New Year Celebrations and the 2024 elections.
As part of the coming celebration of Balinese New Year (Hari Suci Nyepi Tahun Baru Saka 1946) – the "Bali Day of Silence" will take place from 5:59 a.m. on Monday, 11 March 2024 until 6:00 a.m. on Tuesday, 12 March 2024. Traditionally, the evening before "Nyepi" is marked with mardi-mardi-gras-like street festivities marked by hundreds of papier mache figurines paraded on the shoulders of traditionally dressed young men until just before the following dawn.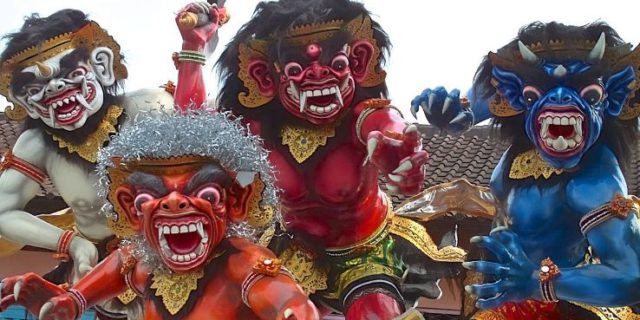 The parading of Ogoh-Ogoh floats is a time-honored event, including the participation of young men from banjars island-wide, sparking intense competition between neighboring villages and the Provincial Government, offering cash incentives and prizes to the best banjars.
Gianyar's Pasikian Yowana Group claims the proposed ban of the Ogoh-Ogoh Parade is a one-sided prohibition taken without any prior consultation with Yowana and the local community.
While no formal ban on Ogoh-Ogoh Events in 2024 has yet to be confirmed, Bali's provincial authorities are, however, considering adopting a ban on all Ogoh-Ogoh parades in 2024 to ensure a peaceful election year.
The 2024 presidential election is scheduled for 14 February 2024, well before "Nyepi" on 11-12 March 2024.
Yowana Gianyar is protesting any consideration to cancel the popular and much-loved Ogoh-Ogoh parades as a potentially arbitrary and unilateral act by Provincial Authorities. Pande Made Widia, the chairman of Pasikian Yowana in Gianyar, told NusaBali.com on Wednesday, 01 November 2023: "This is unwise. Don't mix cultural traditions with political matters. Preserve and protect creativity, providing it does not violate the law."
Widia urged the Bali Provincial Cultural Department (Dishub) to dialogue with interested parties, such as Yowana, before taking any final decision on cultural matters. Widia added that the government should not allow the elections, held only once every five years (quinquennially), to destroy the creativity of Yowana.
Widia, who hails from Banjar Penusuan in Tegallalang, underlined that Yowana is very open to cooperating with the government. He said the government should establish guidelines and suggest mutually agreeable limits to ensure the election atmosphere remains conducive. He underlined that in years past, Ogoh-Ogoh parades were held under guidelines set to prevent the spread of COVID-19, prompting him to ask why the coming elections should be treated any differently.
Indonesia will see the historical convergence in a single year of three different elections: the Presidential Election (Pilpres) and (Pileg) Legislative Election to be held on 14 February 2024 and the (Pilkada) Election of Regional Chiefs (i.e., Governors and Deputy Governors, Regents and Deputy-Regents, and Mayors and Deputy Mayors) to take place in September.
The Cultural Department has expressed concerns that the election year is "not an ideal" time for Ogoh-Ogoh parades and competitions. Officials fear disputes may break out between Ogoh-Ogoh contestants.
Related Links
Ogoh-Ogoh Parades to be Tightly Controlled
Stay Informed on Bali Tourism-Related News: Subscribe to Bali Update