Due to an overwhelming public response following its September launch, Bali Hai Cruises is extending and expanding its 3 Day/2 Night Bali Lembongan Paradise Package.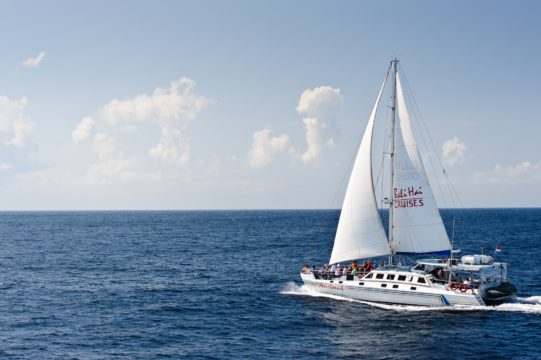 The original 2-night "staycation" featuring transfers to and from the port of Benoa from any address in South Bali; round-trip sail cruise transfer on the 64-foot Aristocat Sailing Catamaran; 2-nights at the Hai Tide Beach Resort; daily breakfast; and access to the Bali Hai Beach Club – continue to be available each week departing on Friday mornings and returning late Sunday afternoon. 
Starting in September to meet public demand, Bali Hai Cruises has now added a mid-week departure option of this 3 Day/2 Night excursion departing on Tuesday morning and returning on Thursday afternoon.
Both trips bring guests to Bali's best beaches in the Nusa Penida District of Bali's Klungkung Regency. Situated just twelve-kilometers from the southeast shore of Bali. The largest among the three islands is Nusa Lembongan, complemented by the two lesser islands of Nusa Penida and Nusa Ceningan.
One of Bali's most popular destinations – Nusa Lembongan has proven irresistible for those who come to lounge on its exquisite beaches where they can indulge in an almost endless range of water sports. Linger to explore the island's picturesque ocean-facing lime-stone cliffs, or chill while indulging in the laidback and highly affordable beachside dining that forms just one of the many serendipitous delights awaiting visitors.
Carefree and Healthy Holiday
Bali Hai Cruises has recently received official "new era" certification from the Provincial Government of Bali, affirming every aspect of its operation complies with officially approved protocols on Cleanliness, Health, and Safety (CHS) that prevent the spread of the coronavirus. What's more, the entire Regency of Klungkung, which includes the off-shore islands of Nusa Penida and Nusa Lembongan, remains officially classified as a "green zones" for its effective treatment of COVID-19 cases and efficiently preventing the appearance of new cases.
Select either the weekend or mid-week Bali Hai Nusa Lembongan Paradise "Staycation" to lazily lavish on the healthy fresh island after a refreshing ocean cruise to enjoy a tropical island where no effort is spared to keep all guests and staff smiling and healthy. Temperatures are checked before embarkation, face masks are de riguer in any social contact context, handwashing stations abound, high-contact surfaces are routinely disinfected, and physical distancing measures apply wherever practicable.
Hai Tide Beach Resort
The Hai Tide Beach Resort is situated on picturesque Mushroom Bay on Nusa Lembongan. Snorkeling, diving, nearby surf breaks, the Bali Hai Beach Club, a beachside spa, and a whole range of water sports are quite literally at the doorstep for those staying at this premier Lembongan Island Beach Resort.
Offering accommodation in Two-bedroom beach villas or 24-traditionally-styled "Lumbungs" fitted out with modern amenities, guests staying at The Hai Tide Beach Resort enjoy two large private swimming pools, lush gardens, and a beachside bar and restaurant – the Hai Bar & Grill.
Facilities at Hai Tide Beach Resort
En-suite bathroom
Swimming pools
Kids' pool
Beach Bar
Hai Bar and Grill Beachfront Restaurant
Beachfront Lumbungs
Day beds
In-room safe
Air conditioning
Ceiling fan
Refrigerator
Internal telephone
Complimentary WiFi
Tea/coffee making facilities
Room Service
Pricing and Departure Information
Lembongan Paradise Midweek Package 
Departure every Tuesday at 10:00 am
Return to port Thursdays at 6:00 pm
Special Price Offer: 3 Day / 2 Night Cruise Package is usually priced at Rp. 7.1 million is now on offer until 31 December 2020 for only Rp. 2.8 million net for two people – twin sharing. 
Included in this special offer:
Pick-up and drop-off transfers are provided between most addresses in South Bali and the Bali Hai Terminal at Benoa Harbor.
Luxury sailing transfers to Nusa Lembongan aboard the luxury 64-foot Bali Hai Sailing Aristocat Catamaran. Traveling time is two hours each way, with both open-deck seating or covered interior seating available.
Morning coffee tea and pastries or afternoon coffee, tea, cheese, and crackers served during the ocean transfer. Open bar service is available onboard during each leg of the Aristocat Catamaran transfer.
3 Days- 2 nights accommodation at The Hai Tide Beach Resort beachfront, Family or Garden Lumbung accommodation on picturesque Mushroom Bay Beach.
Full breakfast on each morning at the Hai Bar and Grill.
Free admission to "Movies Under the Stars Experience" every Wednesday.
Complimentary use of a mountain bike for independent exploration of Nusa Lembongan Island.
Complimentary onsite activities include swimming pool, ocean kayaks, and mountain bikes.
Free use of sanitized snorkeling equipment.
Access to Bali Hai Beach Club
Happy Hour every afternoon with special drink prices from 5:00-7:00 pm.
Optional Activities Available During a Lembongan "Staycation" with Bali Hai Cruises:
Aristocat Island Discovery Cruise available at Rp. 350,000 per adult, Rp. 250,000 per child (4 – 14 years).
Introductory Discover Scuba Dive Rp. 825,000
– Certified Dive Excursion
– One dive Rp. 710,000
– Two dives Rp. 1,210,000
– Three dives Rp. 1,705,000
– Aquanauts Rp. 885,000
Terms and Conditions
– This promotion valid until 31 December 2020.
– Valid only for new bookings.
– Rate is inclusive of tax and service charge.
– Full payment is required at the time of booking.
– Price is subject to change.
– Non-refundable.
– Lumbung type subject to availability (first-come-first-serve-basis).
This package refers only to the above inclusive items as stated.
Qualified scuba divers also have the added option of exploring the world-class dive sites around Penida, Lembongan, and Ceningan, where Dolphins, gigantic Ocean Sunfish, and Manta Rays frequently pay their respects on visiting divers and snorkelers.
BOOK NOW! Lembongan Paradise Weekend Package
Lembongan Paradise Escape – Weekend Package
Departure every Friday at 10:00 am
Return to port Sundays at 6:00 pm
Special Price Offer : 3 Day / 2 Night Cruise Package Rp. 2.8 million net for two people twin-sharing until 30 September 2020.
New Rate from 1 October until 31 December 2020: 3 Day / 2 Night Cruise Package Rp. 3.1 million net for two people twin-sharing. Repeat guests pay only Rp. 2.8 million
For bookings and more information WhatsApp +628113984068 or Email
Related Link