An incident in the early days of the Emergency Limitations on Public Movement (PPKM-Darurat) measures has prompted Bali officials to demonstrably making good their threats to enforce health protocol violations involving expatriates strictly. In the aforementioned incident, a Russian woman, Anzhelika Naumenok (33), who tested positive for COVID-19 at Bali's Udayana University Hospital, fled the hospital and refused to self-isolate, roaming freely for five days in the Kuta area of Bali. Fortunately, authorities managed to locate the woman and placed her under medical detention, awaiting a "negative" COVID result so she can be deported back to Russia.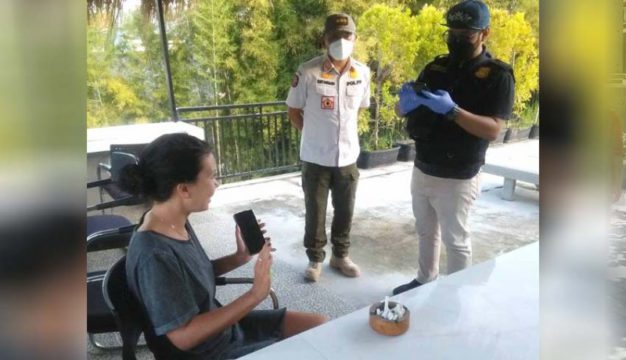 Authorities have traced Nauemenok's movements during her five days on the run and have identified and tested at least ten people who had close contact with the contagious Russian. Meanwhile, the Russian woman's accommodation at the Hotel Serenity Twin in Canggu has been disinfected by health officials.
Possibly precipitated by the Russian woman's recalcitrance and earlier warnings from Bali's immigration authorities that foreigners who refused to follow PPKN-Darurat protocols would face deportation from Indonesia, at least three Bali visitors are now being processed for legal expulsion. On Thursday afternoon, 08 July 2021, the three hapless foreigners were apprehended on Jalan Batu Bolong in Canggu, caught not wearing face masks as required on national and provincial regulations.
As reported by NusaBali.com, the three foreign visitors netted in the operation and now awaiting final processing of recommendations for their deportation are:
Aileen Ayala (22) from Florida, USA.
Murray Ross (25) from Ireland
Zulffia Kadyrberdieva (25) from Russia
The Provincial Enforcement Authority (Sat Pol PP-Bali) Chief, Dewa Nyoman Rai Darmadi, said the three are under detention at the Immigration Office in Jimbaran. He said the three are being deported for failing to wear a face mask in public in violation of Gubernatorial Regulation Number 10 of 2021 and Circular Memorandum Number 09 of 2021 in health protocols and compliance with PPKM-Darurat.
Rai explained that in his capacity as the Chief of Sat Pol PP-Bali could only recommend the deportation of foreigners. However, the final authority to deport resides with Provincial Immigration Authorities, whose chief had earlier promised to deport foreigners caught violating health Protocols summarily. "When they will be deported, that is the right of immigration to decide. These three foreigners who broke health protocols are being handled by immigration," said the Sat Pol PP Chief.
In addition to the three foreign nationals awaiting final deportation, the Sat Pol PP also apprehended seven foreigners charged with the lesser crime of having a mask in their possession but failing to wear the mask in the proper manner covering both their nose and mouth.
These seven foreigners were caught in Canggu. They were admonished and forced to wear their masks correctly and fined Rp. 1 million each. The seven foreigners fined were from Australia, Germany, Russia, Norwegian, the USA, France, and Russia.
Separately, the head of the Denpasar Provincial Immigration Office, Jamaruli Manihuruk, confirmed that his office had received the recommendation for the deportation of the three foreigners. He also confirmed that because the foreigners violated Health Protocols, they should be considered a danger to the Indonesian public under Immigration Law Number 6. As a result, the three who have undergone intensive interrogation by immigration officials would soon be deported from Indonesia.
Related Article
Tourists Without Face Masks to Be Deported