Ubud's finest restaurants join hands for a unique gastronomic trilogy that covers three months.
Aperitif, Locavore, and Mozaic Restaurants – world-renowned restaurants all located in Ubud, Bali, have decided to collaborate on a series of 3 incredible dinners, creating a unique gastronomic trilogy on three separate nights over three months.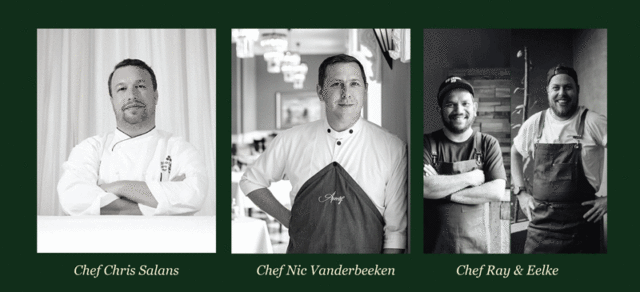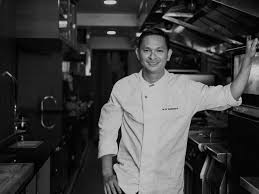 Each dinner on each evening will feature the attendance and cooking skills of the three outstanding chefs:
Nic Vanderbeeken of Aperitif 
Ray Adriansyah and Eelke Plasmeijer of Locavore 
Chris Salans of Mozaic 
Plus a special guest appearance by Chef Mandif Waroka of BLANCO par Mandif 
The three dinners will are scheduled as follows:
Mozaic Restaurant:  Saturday, 12 December 2020
Aperitif Restaurant:  Saturday, 23 January 2021
Locavore Restaurant:  Saturday, 20 February 2021
For each of the dinner dates, the chefs will collaborate to offer a distinctive dining experience unequaled in the history of Bali gastronomy. Responding in a chorus of unison, the formidable foursome said: "We are joining forces to offer our guests three incredible dining experiences which, in normal times, would not be available. By doing this, we are guaranteeing all of our guests three exciting gastronomic experiences over the next three months."
The chefs have also arranged for a luxurious hamper, specially curated by the four chefs, to be given away to one lucky diner on each of the three selected dates.
For the first dinner at Mozaic Restaurant Gastronomique on Saturday, 12 December 2020, the chefs will be presenting an exciting menu of modern and creative dishes emphasizing interaction with the guests as possible.
Mozaic's Chris Salans has invited as an outstanding guest chef for this first installment of the Gastronomic Trilogy, Chef Mandif Warokka of Blanco par Mandif.
The 8-course dinner price is Rp. 1,250,000 per person plus tax and service. An optional premium wine pairing including champagne is on offer to complement the dinner for a further Rp. 1,250,000 per diner plus tax and service.
Dinner will be served between 6:00 pm – 9:30 pm on Saturday, 12 December 2020.
Seating is limited, and reservations are a must!
Saturday, 12 December 2020
Mozaic Restaurant Gatronomique
6:30 pm – 9:30 pm
Eight-Course Degustation Menu
∞ ∞ ∞ ∞ ∞
Amuse bouches des chefs
WINE: Champagne, Taittinger, Nocturne Sec, Reims, France
∞ ∞ ∞ ∞ ∞
Martino – beef tartare Belgium style
WINE: Pinot Grigio, Tenuta Sant'Helena, Fantinel, Collio, Italy
∞ ∞ ∞ ∞ ∞
Silken Tofu Custard – Egg yolk confit, Coconut Emulsion, Mahi-Mahi Fish "karasumi."
WINE: Chenin Blanc, Organic, Reyneke, Stellenbosch, South Africa
∞ ∞ ∞ ∞ ∞
Young white corn, mud crab, marigold flowers, nixtamalized corn miso velouté
WINE: Chardonnay, Beringer, Napa Valley, USA
∞ ∞ ∞ ∞ ∞
Opu fish, puffed rice, Antiboise, beurre blanc
WINE: Sauvignon Blanc, Pouilly-Fumé "Les Deux Cailloux", Fournier, Loire, France
∞ ∞ ∞ ∞ ∞
Snake River Farm Pork, Coconut Tombong, and Shrimp Salt
WINE: Blend Syrah, The Chocolate Block, Franschhoek, South Africa
∞ ∞ ∞ ∞ ∞
Aged Pekin Duck Breast, Chicken Liver Mousse "Wan Ton," Braised Fennel, Red Beet-tamarind emulsion
WINE: Merlot, Fusco, La Roncaia, Friuli-Venezia Giulia, Italy
∞ ∞ ∞ ∞ ∞
Vintage carrot, glazed with carrot passionfruit reduction, passionfruit sorbet, toasted sesame crème
∞ ∞ ∞ ∞ ∞
The Whole Cocoa Pod – dark chocolate mousse, roasted bananas, caramelized peanuts, and miso
WINE: Shiraz, Kalimna, BIN 28, Penfolds, Barossa Valley, Australia
∞ ∞ ∞ ∞ ∞
Petits fours des chefs
Inquiries, menu details, and bookings for all three events can be obtained via the respective websites of each restaurant:
Mozaic Restaurant Gastronomique