For three consecutive weeks, Balidiscovery.com and Bali Update have been tracking the developing daily count of new COVID-19 cases on the Island starting from 01 May 2021.
The resulting graphs, generated with the kind and expert assistance of Jackie Pomeroy in Ubud, paint a shocking picture of the ongoing epidemic in Bali. The number of daily new cases in Bali over the past week, 12 until 18 July 2021, saw the island break through the one-thousand level when, on Saturday, 17 July – 1,109 new cases were recorded.
In the latest set of figures, there's little sign that the current epidemic is waning due to government-imposed drastic limitations on public movements or an intensive inoculation program.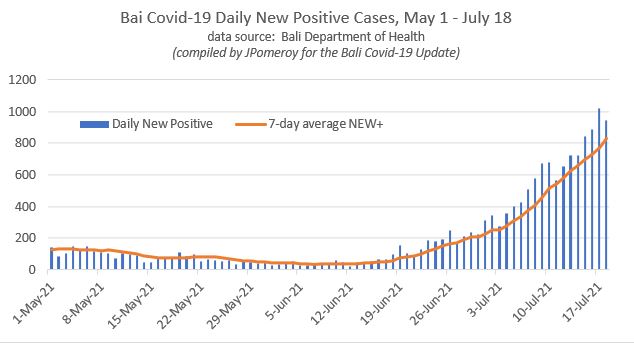 Over the past two weeks, the number of new COVID cases in Bali has increased steadily since 05 July. The raw data below shown below presents new COVID-19 cases 05-19 July. For the period 12 – 18 July 2021, the number of daily cases recorded in Bali's capital city of Denpasar (DPS) and the southern regency of Badung are also shown.
05 July 401 new cases
06 July 424 new cases
07 July 505 new cases
08 July 577 new cases
09 July 674 new cases
10 July 678 new cases
11 July 563 new cases
12 July 654 new cases – DPS 293 – Badung 140
13 July 723 new cases – DPS 277 – Badung 116
14 July 791 new cases – DPS 343 – Badung 151
15 July 843 new cases – DPS 362 – Badung 144
16 July 885 new cases – DPS 357 – Badung 141
17 July 1,019 new cases – DPS 388 – Badung 185
18 July 944 new cases – DPS 347 – Badung 195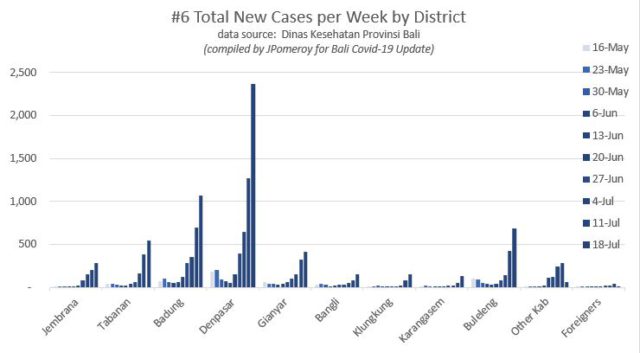 Deliberations are now underway in Indonesia's Capital to determine if the Emergency Limitations on Public Movement (PPKM-Darurat) policy set to end on 20 July 2021 will be extended. The Government has indicated that in deciding on extending the lockdown, chief considerations would be the current rate of new cases and the availability of isolation beds in hospitals designated to accept COVID-19 patients.
Balidiscovery.com again thanks Jackie Pomeroy of Ubud, who has made an art form of the scientific analysis of statistical developments of COVID-19 in Indonesia and has created the accompanying updated graph showing trends in reported daily cases starting from 01 May.
Balidiscovery.com, with the help of Ms. Pomeroy, will update these numbers one week from now.
Related Article
The Only Numbers Worth Watching