Trisno Santoso: Scenes from a Life's Sojourn in Art
Trisno Santoso was born in Cirebon, West Java in 1930, as Thio Siaw Tjin.
His life's journey and love of the arts saw him spend the next 78 years wandering back and forth between Cirebon, Bandung, and Bali before his death and eventual cremation on 08 October 2008 in his adopted Island home.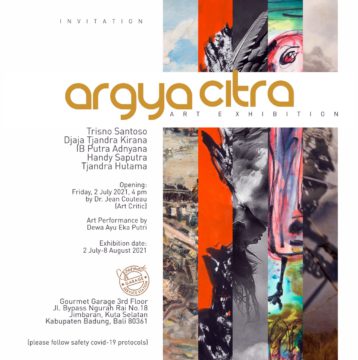 During his formative teenage years in Cirebon, Santoso worked as an assistant to his father, Thio Ho Tek, a well-known Chinese caligrapher. He diligently helped his father prepare the material of his work and painting tools. This early exposure imbued young Siaw Thin with an appreciation for the art of calligraphy and the family business of providing Chinese script for places of worship, store fronts, and home decorations.
Orders placed at the Atelier of Thio Ho Tek used paper, glass, or wood as their media. Orders for paper renderings of Chinese calligraphy also saw the elder Thio add distinctive Chinese-style paintings. Business was brisk as customers flocked to order his calligraphy and paintings, while others also sought his special talent as feng shui expert. A master of balancing yin and yang, the negative and the positive, good luck and bad – Thio Ho Heck was much in demand by members of the community seeking to restore cosmic balance to their lives and living spaces.
Following in the steps of his father, Thio Siaw Tjin witnessed the warm friendship his father enjoyed with legendary Indonesian painter Lee Man Fong. In fact, Siaw Tjin's father was a member of Yin Hua – an association of Chinese painters founded by Lee Man-Fong in 1955. Yua Hua was the home to great artists hailing from various Indonesian cities who participated in prestigious exhibitions both in Indonesia and abroad. The already stellar reputation of Yua Hua was augmented further when Indonesian President Soekarno elevated Lee Man Fong as an official contributor of paintings for the collection housed at the Indonesian National Palace.
Extreme political unrest surrounding the 30th September Movement in 1965 (Gestapu) and precipitated the eventual downfall of Indonesia's first President, also caused the disbanding of Yin Hua – the group of outstanding artists that had grown to include not only Lee Man Fong but also included among others Lie Tjoen Tjay, Chris Suharso, Lim Wasim, and Siauw Tik Kwie.
Self-taught and home-schooled in the arts by his father, young Santoso also studied painting from Yin Hua Artists who congregated in his father's Cirebon home. Along the way, he became an accomplished sketch artist, draftsman, watercolorist, and oil painter who drew his artistic inspiration from nature and the daily lives of the community.
During the historically tumultuous mid-1960s in Indonesia, Chinese culture and Chinese script became limited, if not banned. People of Chinese descent were actively urged to change their names to "more Indonesian sounding" names in order, it was argued, so they would fit in with local society.
Accordingly, Thio Siaw Tjin adopted the name Trisno Santoso. "Trisno" derived from the Javanese word "tresno" meaning "like, adore, or love." While, "Santoso" means "free from cares and difficulty, safe and secure, peaceful, and prosperous."
And, indeed, God instilled Trisno Santoso with a certain love that would bring him peace and contentment during all the years of this life. During his first trip to the Island of Bali in 1957, the then 27-year-old man was smitten with Bali and its culture, prompting him to promise himself to one day live on the paradise island. An extended period in Badung, West Java (1965-1987) preceded a permanent move to the Island in 1987 where he happily spent the remainder of his life. Before making the ultimate move to Bali, Trisno Santoso became a frequent visitor to the Island where he sold his paintings to local gatherings and acquaintances.
An esteemed artist in his own right, Trisno Santoso's paintings have shared exhibition halls with paintings exhibited by Chusin Setiadikara and Rudiyat. Highly successful solo exhibitions followed that would see every one of Santoso's paintings snatched up and purchased by eager collectors. Today, some of these patings form parts of important private collections, including that of Indonesia's late Vice President Adam Malik who famously assembled a personal collection of outstanding art.
During his 22-year residency in Bandung, Santoso often met with Chusin, sharing and showing his latest "Bali-inspired" works. A bold and explorative artist, Santoso's oil paintings from the 1970s-1980s still exhibit Chinese nuances. His sketches show a playful interplay of lines. Chusin has cited Santoso's compositions for the subtle impressionist influence of Thio Ho Tek and other members of Yin Hua.
One of Santoso's closest acquaintances in Bali was the painter Djaja Tjandra Kirana, a friendship first formed in 1959. The two men were friends of the famous Singapore artists Lim Tze Peng – who is now 103 years old.
Together, the three artists formed a close bond that led to joint exhibitions and outings to create artistic renderings across Bali in places ranging from Kusamba Beach, Tanah Lot, temple complexes, and Kintamani. Three or four times a year, Lim Tze Peng would travel to Bali and stay in Santoso's house in Junjungan, Ubud for periods lasting up to one month's duration. This Chinese "triad" – Santoso, Lim, and Kirana – would walk and explore the environs surrounding Bali while they discussed topics far and wides while seeking inspiration for their next works of art.
Tjandra Kirana would describe how the three painters would depart just after breakfast, only returning late in the day, just before sunset. Prodigiously productive, both Lim Tze Peng and Trino Santoso would typically complete two separate works in a single day. On rainy days when long walks were not practical, Santoso's house became an art studio with tree trunks, statues, flowerpots, bottles, and pieces of fruits serving as still-life models. Some of these works can be found today in the book "Samuan Tiga – Kintamani, Tanah Lot and Uluandanu Temple" (ArtSafe Pte Ltd, Singapore, 2016).
Reflecting on the life of his friend and fellow artist, Tjandra points to the persistent and tenacious way that Santoso pursued his artistic career as an example to be emulated by young artists today.
Tjandra insists that his friend's deep love for Bali is expressed in his art depicting the natural atmosphere of the Island, its culture, and daily activities of Island life, Beaches, forests, temples, markets, rice fields, and traditional ceremonial activities dominate Santoso's canvases. Santoso once commented that artistically he sought to prove that the harmony of color and composition could capture the natural beauty of the Island of the God.
Art critic and observer Agus Dermawan T., speaking in a catalog prepared for a 1993 joint exhibition at Jakarta's Balai Budaya with Sandy Leonardo, Linton Paul, and Tedja Suminar – commented that Santoso's work emphasized resolute polishing, brush strokes and the hand-blotting of colors. His compositions are expressive, instilled with a specific spontaneity. His works allow unique peeks into the daily life of the Balinese, presented in the tertiary and intermediate colors of brown and black. Meanwhile, bursts of light are used to accent and bring his subjects to life.
Meanwhile, light is poured on the sides of his work as an accent that offers the life of his objects. These observations were presented in the catalog of the joint exhibition of Trisno Santoso, Sandy Leonardo, Linton Paul, and Tedja Suminar in 1993 at Balai Budaya, Jakarta.
Agung Rai, the owner and founder of ARMA Ubud Museum, said that the exploration of Bali's nature and culture drew him to Santoso's art. As a result, Santoso's works featured prominently in the art offered for sale at the Agung Rai Fine Art Gallery and the affiliated Agung Raka Fine Art Gallery from 1982 until 1990. Agung Rai praised Santoso's art, commenting that art lovers and collectors are especially keen to acquire his depictions of boats, fishermen, and Balinese villages. Santoso tried throughout his life to only sell his paintings to people who appreciate and love art. In this way, he used his paintings to make friends with people who shared his love for Bali.
Santoso was an avid reader, with a wide-ranging interest in the world around him. Agung Rai recalls him as a man with a strong desire to establish roots in Bali, managing to build a home among the rice fields and coconut palms in Junjjungan, Kutuh Kaja, Ubud.
Henny Santoso
Henny Santoso, the artist's eldest daughter, confirmed her father's deep and abiding love for Bali. She urged her father to leave Bandung and move to Bali in 1987, commenting: "For Papie, painting brought a way of life and personal happiness in the place that he loved – Bali."
Henny greatly admired her father who never coaxed any of his three children to become artists, insisting only that they be serious in their scholastic pursuits. She is very proud of her father as a a reknowned artist and fondly recalls how in 1974 he was invited to exhibit his works in Kuala Lumpur, Malaysia to celebrate diplomatice relations between Indonesia and Malaysia.
Apart from painting, Santoso also loved to read, which made his views and insights more worldly. Agung Rai often invited him to discuss various topics, including areas outside the arts. One thing that Agung Rai remembers is Santoso's strong desire to find a place to live in Ubud and how he managed to get a location in front of a deserted stretch of rice fields surrounded by coconut groves in Junjungan, Kutuh Kaja, Ubud.
While she was still a student in high school, Henny began to comprehend her father's struggles to raise a family of three from the income he derived from art. Despite these challenges and the financial needs of his own family, Santoso's generosity to others in their times of need was legendary. He always counseled his daughter to remain light-hearted, do good, and help others. Adding: "Help people in need. If you can't, don't bother. If you can, help as best you can."
Those fortunate to know Henny, now a successful businesswoman in her own right, know he to be the living embodiement of her late father's credo.
Recalling her childhood, Henny tells of how her father after a busy day of painting Santoso always paid attention to his children. He would patiently listen to his son relate the day's activities at school.
"Papie really cared about us, he shared basic life skills and lessons that last a lifetime," said Henny.
Her father taught lessons to instill confidence, honesty, discipline, and responsibilities. Santoso foresaw a world that would become increasingly fierce and challenging. He urged his children to carefully think long and deep before taking a major decision, but to then face the consequences once a course of action had been decided. Henny is today living proof that the lessons imparted by her father were beneficial in her career as a successful entrepreneur in Bali.
Lanny Mackenzie
Santoso's second daughter, Lanny MacKenzie, lives in Australia where she operates a studio creating vibrant works of weaving and fiber art. Inspired by a father who taught her to love and admire nature, Lanny practices her craft while tending to gardening and the local environment. Recalling her late father, Lanny said: "I also admire the engkong Thio Ho Tek who maintained ancestral traditions through calligraphy art."
The colors that dominate in Lanny's work and her use of natural materials are similar to Santoso's work that also favored soft and dark colors. In the last years of his life, according to the testimony of his third son, Teddy, the late artist increasingly relied on darker colors portraying a certain moodiness. Teddy, like his two sibling sisters, treasures the advices and life-lessons shared by his late father.
Argya Citra Exhibition in Bali
The combined loving memories of Santoso's three children have given impetus to the shared desire to document the work of their late father in the current retrospective exhibition – "Argya Citra." Via the exhibition and the new information coming to light, a book is planned in the near future commemorating both the man and his body of work.
Four distinguished senior Indonesian artists working in disparate mediums will share the exhibition space on the third floor of The Gourmet Garage on Jalan Bypass Ngurah Rai in Jimbaran, Bali from 02 July until 08 August 2021.
On display with selected works of Trisno Sustanto will be painting by Djaja Tjandra Kirana (77), IB Putra Adnyana (63), Handy Saputra (57), and Tjandra Hutama (40). The exhibition's name – Argya Citra derives from the meaning of Argya (honor and respect) and Citra (art) and underlines the mutual respect shared between these artists. In the current exhibition, the four surviving artists present a combined "salute" to the late Trisno Santoso who remained a committed artist until his dying days. His legacy and a large body of works together with a love for the Island shared among the five artists are at the very core of the Argya Citra Exhibition.
Djaja Tjandra Kirana
Djaja Tjandra Kirana used pumice or lava stone from Lake Batur at the Kintamani Volcano to fashion unique artistic creations together with Trisno Santoso in the year 2000. Boulders of lava against an orange background epitomize the polarization of sunlight presented by Tjandra rendered on Chinese paper.
IB Putra Adnyana
Photographer IB Putra Adnyana, known to friends and acquaintances as "Gusta," and Trisno Santoso enjoyed an emotional connection as demonstrated in respective works. Both men sought to find and share the many natural and cultural attractions of Bali. In the Argya Citra Exhibition, Gustra displays four works of art he terms "post-photography." In a photo-based digitally created visual art form, the creative result is printed on canvas as an "art print."Making only a maximum of eight prints for each composition, Gustra adds colorful strokes to strengthen the visual dimension of the final compositions.
Handy Saputra
Artist Handy Saputra came to know and admire Santoso in the process of collecting works for documentation purposes. In the current exhibition, Handy includes four works produced in ink and Chinese colors on rice paper. Handy Saputra's initial interest in art came at the encouragement of Djaja Tjandra Kirana that led to a solo exhibition in February 2020 at the Sanur House. Saputra now divides his time between his life as a busy entrepreneur and as an artist producing works in which his wild strokes of the brush give birth to fanciful and fictional figures..
Tjandra Gutama
Photographer Tjandra Hutama shares with Trisno Santoso an admiration for representing natural objects. The objects of nature and the people captured by Tjandra's camera lens are approached with great respect and affection. An environment of mutual respect and a desire to maintain harmony in the universe form central themes in the stage puppetry drawn from the Hindu epics of the Mahabharata and Ramayana provide imagery for Tjandra's sophisticated photo processing technology.
The Argya Citra Exhibition celebrates an inner bond and mutual admiration enjoyed by five intergenerational artists in the individual pursuit of their artistic visions. In the trying times of the current global pandemic, the camaraderie, brotherhood and mutual cooperation championed in the current exhibition at The Gourmet Garage take on an added importance in how we all conduct our daily lives.
Argya Citra Exhibition
An Art Exhibition Featuring:
Trisno Santoso,
Djaja Tjandra Kirana
IB Putra Adnyana
Handy Saputra
Tjandra Hutama
Opening 4:00 pm – Friday, 02 July 2021 by Art Critic Dr. Jean Couteau
Art Performance by Dewa Ayu Eka Putri
Exhibition Open Daily 02 July – 08 August 2021
3rd Floor Art Space Gourmet Garage
Jalan Bypass Ngurah Rai No. 18
Jimbaran, Kuta Selatan
COVID-19 Protocols Apply