Beritabali.com reports that a Memorandum of Understanding (MoU) by the Minister of State-Owned Enterprises (BUMN) synergizes seven BUMN business entities to collaborate in supporting the national tourism sector has received the support of Indonesia's Minister of Tourism and the Creative Economy, Sandiaga Uno.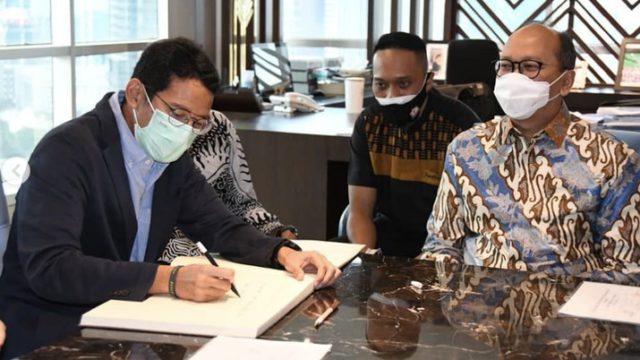 The MoU signed by the seven State-Owned Tourism-Related Enterprises seeks to create value by aligning common interests. Sandiaga Uno says the proposed collaboration has his full support, adding: "I see this as an alignment of value creation based on an alignment of interest focused on the tourism sector. I am sure that the Ministry of BUMN, led by Mr. Erick Thohir, that this innovation, collaboration, and adaptation can be presented in the form of a common holding enterprise."
The Tourism Minister said the hope is that the affiliation of seven BUMN companies will go beyond simple incorporation and serve to inspire the Indonesian people.
Echoing Sandiaga Uno's statement, the Minister of Transportation Budi Karya Sumadi has pledged his maximum support to the proposed collaboration between State-owned companies.

"I support this movement because I see such an idea as very good and, God willing, this will provide us with facilitation, especially in creating synergies that will support tourism to become a national mainstay," said the Minister of Transportation.
Sumadi said the transportation sector is a major force within the national economy that creates connectivity between all parts of the nation. Facilitation of national transportation will improve accessibility which is essential for tourism and small and medium-sized enterprises. The MoU establishing the collaboration between 7 BUMN companies seeks to create new markets among State-owned companies involved in supporting national tourism and as a first step in creating a national holding company.
In describing the holding company envisioned by the MoU, BUMN Minister Erick Thohir said: "The objectives of the tourism holding company and its supporting elements is to encourage the implementation of integrated cross-sector initiatives, development of the tourism infrastructure, to increase competitiveness, and strengthen future funding capabilities."