NusaBali reports the not-for-profit Bali Animal Welfare Association (BAWA) has come to the rescue of "hundreds" of stray dogs roaming Sanur Beach and other locations. BAWA provides food for dogs that are suddenly abandoned by their owners or that no longer receive "handouts" from diners, now vanished, from beachside restaurants.
BAWA started its feeding program in May 2020. To date, thousands of feedings have taken place for Bali's hapless canines. Feedings take place regularly at rotating locations. One of the feeding posts is on Matahari Terbit Beach, where on Tuesday, 26 May 2020, at 3:00 pm where a mass feeding occurred. Another feeding area is on Padanggalak, Kesiman, East Bali.
Dr. Rai Arniasih, a veterinarian, working with BAWA, said the feedings take place twice each week in targeted areas ranging along the entire length of Sanur from Padanggalak Beach, Sanur Beach, Sindhu Beach, to Mertasari Beach.
During the most recent feeding on Padanggalak Beach, some 65 dogs were fed while the feeding on Matahari Terbit provided nourishment to around 50 dogs.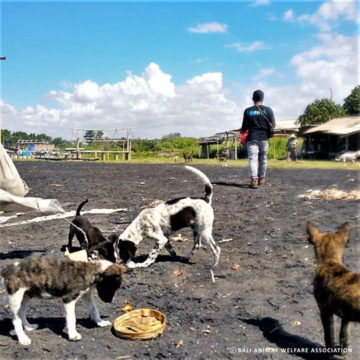 When feedings occur, BAWA brings 10 kilograms of rice, a large bag of dry dog food, and 5 kilograms of chicken and eggs. All these items are mixed with a meat broth. Feeding is undertaken by four teams who place food in several areas feeding as many as 100 dogs.
In addition to feeding free-roaming dogs in Sanur, BAWA is also undertaking feedings in Karangasem, Klungkung, Gianyar, Badung, Canggu, and Lovina in North Bali. Dr. Arniasih said the largest concentration of free-roaming dogs is found in Gianyar, Denpasar, and Badung.
During the eruption of Mount Agung, BAWA undertook regular feeding programs for hundreds of dogs abandoned and displace in the course of human evacuations.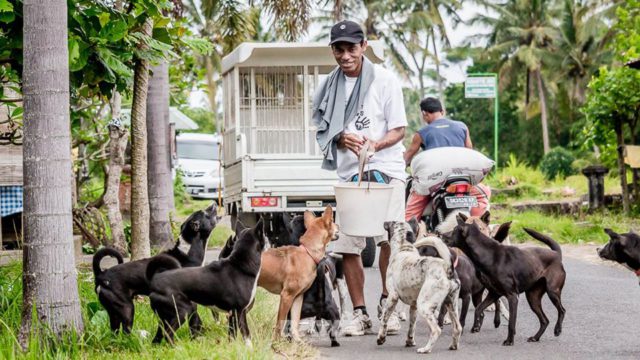 BAWA also operates an animal ambulance and an animal adoption program. Abandoned and neglected dogs, many injured and sick, are nurtured back to good health, cleaned, medicated, de-wormed, vaccinated for rabies, and sterilized. Once the dogs are healthy and sterilized, adoptive homes are sought for the animals in BAWA's care.