According to Radar Bali, a new ferry service from the port of Ketapang  (Banyuwangi) in East Java to Gili Mas (Lembar) in Lombok is cited for reducing the flow of large trucks carrying goods on the busy road between Bali's capital of Denpasar and the Island's western port of Gilimanuk.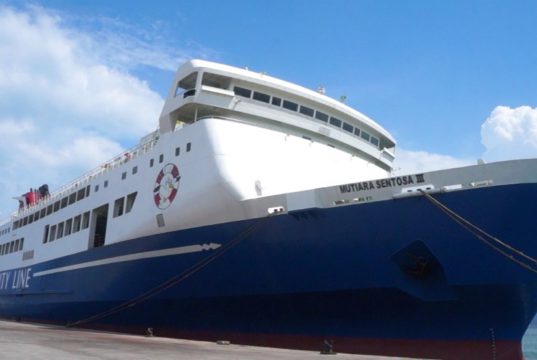 Traffic on the Denpasar – Gilimanuk road is said to be down by as much as 50% due to the economic downturn and traffic diverting to the new ferry service.
Because of the reduced number of large trucks that often block the free flow of cars and busses on the roadway, many are commenting that the travel time is now alsosubstantially reduced.
The new ferry – KMP Mutiara Sentosa III – has eliminated the need to transverse Bali for goods trucks destined for West Nusa Tenggara and East Nusa Tenggara.
The Head Traffic and Road Transport (LLAJ) for the Agency for Land Transportation Management District XI (BPTD-XI)), Anak Agung Oka Nirjaya, said, "This has had a big effect on vehicular traffic on the stretch of road between Denpasar and Gilimanuk that has reduced by around 50%."
Traffic officials say the reduction of heavy trucks traveling the road will also reduce repair costs and replace the asphalt used to seal the busy Denpasar roadway. Authorities use a lower "B Class" type of asphalt on the Denpasar-Gilimanuk Road. Roads covered with "B Class" asphalt should only allow vehicles weighing 8 tons or less. But this limitation is often ignored and unenforced, resulting in the rapid deterioration of the roadway's quality.
The list of benefits resulting from the new East Java to Lombok ferry service also includes health officials' claims that the new sea route also hinders the spread of COVID-19. Moreover, freight and human traffic on roads in the regions of East Java, Bali, and beyond are markedly reduced during the continuing pandemic and, in turn, so is the threat of contagion.
In any case, less traffic with fewer trucks has also reduced the average four hour travel time between Denpasar and Gilimanuk by 30-60 minutes.
The Director-General of Sea Communication operates the current ferry service between Ketapang (East Java) and Lombok. An additional ship operating on the same route by PELINDO is expected to commence service by the end of 2020.
Operating daily, the 10-11 hours ferry voyage on the KM Mutiara Sentosa III can accommodate 500 passengers and a mixture of 120 vehicles ranging from motorcycles, sedans, and trucks.