Bali Update and Balidiscovery.com express sincere thanks to James Castle, the founder of CastleAsia and a dear friend of Bali Update's Editor John M. Daniels since the 1970s, for allowing the use of his filmed remarks on the business community perspective on COVID-19 in Indonesia.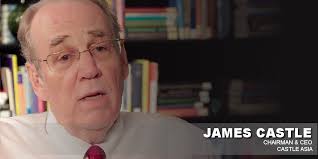 James Castle founded CastleAsia in 1980, a consultancy company that has assisted in the establishment of numerous foreign direct investment companies and is widely retained for his sage advice by Indonesia's and Southeast Asia's largest business groups.
In the Public Sector, he has consulted numerous governments and international agencies, including the World Bank, IFC, ADB, USAID, and the Indonesian government.
He is an Honorary Professional Fellow at Monash University and served as an Adjunct Professor at Johns Hopkins School of Advanced International Studies in 2008 and 2011. He is also a Senior Advisor to McLarty Associates, a leading international strategy firm based in Washington DC.
A member of the Board of the Australia-Indonesia Centre, Castle also sits on the Advisory Board of Coca-Cola Indonesia. He holds the distinction of being appointed by the Minister of Finance as the only non-Indonesian member of the Indonesian National Team to Review Tax Law Changes in 2005.
Much sought after as a public speaker at important conferences, James Castle has appeared frequently on CNBC, CNN, and BBC as a commentator on Indonesian business and politics.
The featured video recorded at The Australia-Indonesia Centre's Webinar discussing the regional trade impact of COVID-19 was recorded on 13 May 2020.
In the accompanying video, Castle shares his views on:
– Current attitudes to government restrictions connected to COVID-19.
– The Indonesian Community's response to COVID-19 and social distancing.
– Long term impact and lessons – The outlook for 'reopening.'
– The Indonesia-Australia Comprehensive Economic Partnership Agreement (IA-CEPA).
Watch and benefit from Jim Castles' decades of Indonesian in-Country experience has resulted in a very balanced erudite view of Indonesia, highly valued and respected by discerning Indonesians and Expatriate "Indonesian Hands."