The management of The Bali Zoo prepared a "food enrichment" experience for the ambush of Sumatran Tigers (Panthera tigris sumatrae) that make their home at the animal park to mark International Tiger Day. In this instance, "food enrichment" was comprised of a multi-layered cake composed only of beef.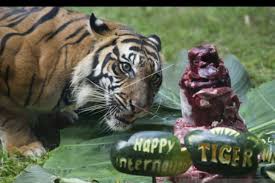 Emma Chandra, the spokesperson for Bali Zoo, said: "By remembering International Tiger Day, Bali Zoo enjoins the public to heighten their concern for conservation efforts on behalf of the endangered Sumatran Tiger."
The towering cake of beef was presented at the Tiger Trail Kampung Sumatra Exhibit to two Sumatran tigers, Padeka – a male who is 6.5 years old, and Sean, a female who is 7.5 years of age.
The special menu, together with an ever-changing array of games and challenges, forms part of an ongoing enrichment program designed to stimulate the tigers' motor skills, enliven their natural sense of smell, and preserve hunting instincts needed for the cats' survival in the wild.
Emma said that the tigers living in the Bali Zoo consume 3-4 kilograms of meat each day, comprised of chicken, pork, beef, and goat.
The big cats at the Zoo undergo regular health inspections that examine their nails, teeth, skin, ear, and furs every six months. Vitamins, calcium, and anti-worm medications are also administered once every three months.
"Daily health controls on the condition of the cats include observations on their feces, urine, rates of respiration, and the general behavior of each tiger," said Emma.
To stimulate guests to return to the newly reopened Bali Zoo, a new guest program "Gowes Keliling Zoo" or "Cycle Round the Zoo" invites visitors to bring their bicycles to explore the 12-hectares of beautiful grounds at the animal park.
As a precautionary measure in the "new era" of "the new normal," the Bali Zoo is, for the time being, not receiving large groups arriving by bus.
The 12-hectare zoological park is home to some 600 animals representing some 75 distinct species.