Bali's Governor Wayan Koster has revealed that 305 airplanes operated international flights to Bali during April 2022, an increase of 148% compared to the previous month of March when 123 aircraft came to Bali. "The total number of international tourists in April was 66,685 or an average of 2,222 passengers per day," said Koster on Sunday, 01 May 2022.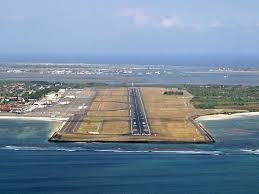 As reported by NusaBali.com, the number of international tourists to Bali increased 287% in April compared to March, when 17,250 people or 575 daily passengers passed through Bali's airport.
Bali's Governor links the increased arrivals to the lowering of COVID-19 cases and high vaccination rates, resulting in an overall safe and conducive atmosphere for tourism. "In this way, the number of domestic and international tourists visiting Bali increased. What's more, the policy changes on 07 March 2022 eliminating quarantine and the visa-on-arrival facility for 43 countries helped further increase tourism," said the Governor.
Domestic flight movements to Bali in March 2022 numbered 2,188 aircraft carrying 276,619 passengers, averaging 9.220 daily passengers. In April, however, domestic flights declined to 1,966 aircraft movements. In April, this decline of 11% compared to the 245,050 total domestic passengers in March averaged 8,168 passengers per day.
The Governor cites the fasting month as the cause for the decline in travelers in April compared to March.
Governor Koster is confident that tourism numbers, both domestic and international, are on the rebound in Bali. The ending of quarantine requirements and visa-on-arrival facilities for 60 countries herald the recovery of the tourism sector.
Further evidence of Bali's recovery abounds. The Island will host a major conference – The Global Platform for Disaster Risk Reduction 23-28 May 2022 expected to attract 4,000 participants from 193 countries.
In late October 2022, Bali will be the site for the G20 Summit, expected to draw world leaders from at least 39 countries and some 10,000 delegates and participants.
Related Link