Detik.com reports that AirAsia Indonesia has increased the number ticketing offices and locations for Rapid Tests at key destinations across the Country.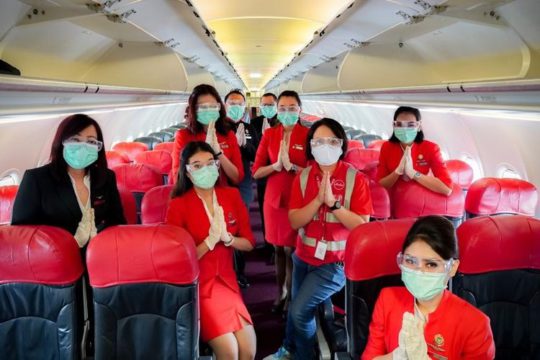 In a press release published by AirAsia Indonesia on Friday, 07 August 2020, in a move to help stimulate ticket sales, Airport ticketing offices have been reopened at the Soekarno-Hatta Airport in Tangerang (Jakarta), the Gusti Ngurah Rai Airport in Bali, and the Juanda Airport in Surabaya.
AirAsia has also expanded its network of Rapid Test Outlets for the detection of the COVID-19 virus. Now, Rapid tests can be secured at the cost of only Rp. 95,5000 in four new locations: YIA Kulon Progo, Sleman, Surabaya, and Denpasar. These are in addition to AirAsia Indonesia's existing network of rapid test centers, including a drive-through testing center at the Soewarna Business Park located within the Soekarno-Hatta International Airport complex.
"By reactivating sales office and customer service, we can optimally serve more segments of society. We hope to reopen more AirAsia service centers in many locations to provide convenience and comfort for consumers with various travel needs, of course, with the implementation of strict (health and safety) protocols," said the CEO of AirAsia Indonesia, Veranita Yosephine.
The locations of the new AirAsia Service Centers are:
1. Sun Boutique Hotel, Jl. Sunset Road No.23, Kuta, Bali.
2. CV Radita Abadi Perkasa, Jl. Bung Karno No 10 Komplek Ruko Satelit Pagesangan Timur, Mataram, Lombok.
3. Pakuwon Trade Centre Supermall, ABC Vacation, LG Floor A6-01 / A6-50, Surabaya.
4. Tunjungan Hotel, Room 102-104, Surabaya.
5. PT. Beyond Aneka Transindo Kencana, Ruko Pakuwon Town Square AA2-19 Pakuwon City, Surabaya.
6. Kirana Tour and Travel, Ruko Istana Dinoyo Kav D-16 Jl. M.T. Haryono 1A, Malang.
7. PT. Arifin Sidayu, Jl. Raya Golokan No. 123, Lamongan.
8. Garuda Plaza Hotel, Lobby Level, Jl. Sisingamangaraja No.18, Medan.
9. Berjaya Holidays (PT Wira Kencana Berjaya Abadi), Jl. Asia No. 548 P, Medan
10. PT Angkasa Tour And Travel, Jl. Bakaran Batu No. 189B, Lubuk Pakam.
11. Grand Serela Hotel, Jl. L.L.R.E. Martadinata (Jl. Riau) No. 56, Bandung.
12. PT. Bumi Karunia Wisata, Jl.Twk.M.Daudsyah No.130, Banda Aceh.
13. PT Astria Padang Wisata, Jl. Kampung Nias V No. 5 Padang Selatan/
14. PT Sukses Bersama Mitra Wisata, JL. Arifin Ahmad No. 75D, Pekanbaru.
Rapid Test Centers
AirAsia operates 20 locations where COVID-19 Rapid Testing is now available, including Bali, Surabaya, Yogyakarta, Lombok, Medan, and Jabodetabek.
Four new Rapid Test Centers are now operating at:
1. Klinik Pratama SOS Gatot Kaca, Jl Gatot Kaca No.21, Dangin Puri Kauh, Denpasar. Open Monday-Friday from 09:00 am until 4:00 pm and Saturdays form 09:00 am until 12:00 noon.
2. RS Sheila Medika, Jl Letjen Wahono 77-79. Juanda, Sidoarjo. Open 24 hours a day.
3. Yogyakarta International Airport, Lantai 2 Mezzanine. Open 7 days a week from 6:00 am until 5:00 pm.
4. Klinik Pratama PMI DIY, Jl. Siliwangi No. 3 Ringroad Barat, Pathuk, Gamping, Sleman. Yogyakarta. Open 7 days a week form 09:00 am – 12:00 noon and 3:00 pm until 6:00 pm.