AirAsia is enhancing its connectivity network in Indonesia with the reopening of three domestic routes connecting Yogyakarta-Medan, Surabaya-Denpasar, and Jakarta-Semarang.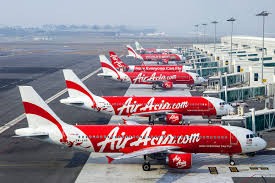 As reported by Kompas.com, the three routes are bookable at attractive fares on the airasia.com website or the AirAsia application.
Prices begin from Rp. 1,179,000 for Yogyakarta-Medan, Rp. 321,000 for Surabaya-Denpasar, and Rp. 368,000 for Jakarta-Semarang. These prices are available for journeys commencing from August 2020. These rates include 15-kilogram luggage allowances.
AirAsia is also extending additional discounts for bookings made online or via their online application. Bookings can also be made via AirAsia's network of affiliated travel agents or AirAsia's Travel Service Centers nationwide.
In a press announcement, the CEO of AirAsia Indonesia, Veranita Yosephine Sinaga, said on Thursday, 30 July 2020, "Via these new routes AirAsia Indonesia now serves eight domestic routes."
Sinaga continued: "In line with the government's focus on restoring the country's economy and increasing flight bookings after recommencement of operations, especially for business trips, we are expanding our services by connecting many economic centers."
In 15 selected airports, AirAsia is offering rapid drive-through tests at the cost of only Rp. 95,500 per test. Also, AirAsia Indonesia provides flexibility for those wishing to change their travel schedules and processing credits for canceled tickets and granting a checked baggage allowance of 15 kilograms for domestic travelers.
AirAsia is following the strict standards set by the Indonesian government for the safe and hygienic carriage of passengers and cargo.
In addition to requiring Rapid Tests on all flights, the AirAsia armada is outfitted with sophisticated HEPA (High-Efficiency Particulate Arresters) capable of removing 99.9% of particulate matter and contaminants, including viruses and bacteria, from the internal atmosphere on each airplane.
All AirAsia Indonesia aircraft are disinfected after each flight.