Quick work by the Bali Police resulted in the arrest of an Algerian national, Mirad Riad (46), and his three Indonesia accomplices in the robbery of a Bank Mandiri ATM on Jalan Bypass Darma Giri in Gianyar on Wednesday 27 May 2020 at 6:17 am.
Police arrested the three Indonesians late on Wednesday, followed by the arrest on 29 May of an Algerian Mirad Riad, also known as Philips or Alger Centre. The Algerian was captured on Jalan Taman Sari in Kerobokan, North Kuta.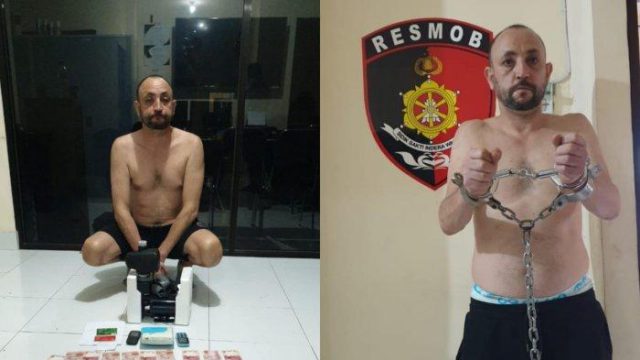 Speaking on 30 May 2020, AKBP Ranefli Dian Candra of the Bali Police confirmed the Algerian's arrest was based on interviews with witnesses, the review of CCTV cameras, and the interrogation of three Indonesian men apprehended in the theft of an estimated Rp. 600 million.
As reported by Balipost.com, the Algerian admitted under police interrogation his participation in the robbery of the ATM in Gianyar.
As reported in NusaBali, on Wednesday, 27 May 2022, police arrested three local perpetrators of the ATM robbery in locations in Denpasar, Gianyar, and Badung. Those under arrest are Roni Firmansyah Maulana, Tri Ito Yudiarsoyo, and I Wayan Kontal. Police also confiscated Rp. 333 million that police presume is part of the Rp 600 million haul taken from the ATM. Police also seized an automobile believed to been used in the robbery,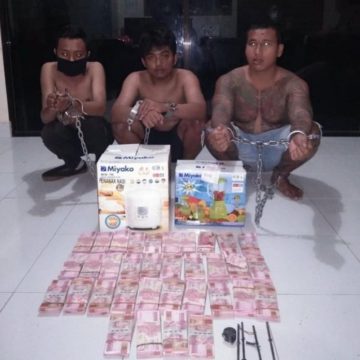 Police say the four ransacked the Bank Mandiri ATM located at a gasoline station, fleeing with three out of four cash boxes, holding a total of Rp. 600 million.
Police say a Bank Mandiri employee, Gede Suci Darmika, discovered the robbery, Gede found the lens of the CCTV camera at the ATM had been covered in duct tape. Darmika immediately informed a special WhatsApp Team at Bank Mandiri of his discovery. The Regional Manager of Bank Mandiri immediately ordered Gede Suci to inspect the ATM who, in turn, found 3 of 4 cash boxes were empty when each box should have contained Rp. 200 million in currency.
A cross-check with the Bank Mandiri Team charged with filling ATM with new cash reserves, confirmed that all four boxes had been filled during their last visit.
The Provincial Police Headquarters received a formal complaint from Bank Mandiri, prompting the police to investigate the scene of the crime, seeking out possible witnesses, and secure footage from CCTV cameras from the areas surrounding the ATM.
The three men confessed to police how they had managed to rob the ATM using a spare key.
Police said the men would be charged with burglary punishable a maximum of 5 years in prison.