A 21-year-old American university student, Josue Omar Perez Del Valle, has been taken into custody by the National Anti-Narcotics Agency (BNNP) in Bali after being arrested at Banjar Sarem in Abiansemal, Denpasar, on Thursday, 25 June 2020, for trying to smuggle marijuana-laced brownies into Bali.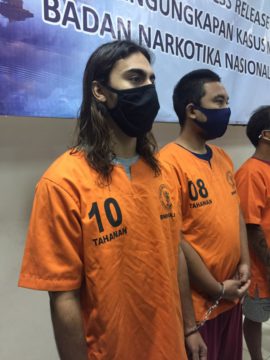 The head of enforcement for BNNP-Bali, I Putu Agus Arjaya, publicly announced the arrest in Bali on Tuesday, 04 August 2020, when he said the American student was an intern at a foundation promoting the use of bamboo at the time of his arrest. According to the Arjaya, Devalle was attempting to smuggle marijuana through the postal system.
As reported by NusaBali, RadarBali, and TribunBali.com, a package originating from the USA arrived at the Renon Post Office in Denpasar, Bali containing a chocolate cake. Closer inspection by Custom Officials in cooperation with BNNP Bali officers showed that the brownies contained marijuana.
Arjaya said: "This was a traditional cake from the U.S. territory of Puerto Rico. The cake contained marijuana. It was made in the form of a cake because the defendant knows marijuana is illegal in Indonesia. The net weight of the cake was 130 grams. The cake was made by the defendant's family and sent to Bali."
In many circles, marijuana forms part of recipes for brownies and other baked goods because of the drug's ability to stimulate appetite and provide a lingering narcotic effect.
In the same parcel containing the cake, police found clothing, games, and other items.
The American volunteer has been in Bali for the past six months learning how to create handicraft items from bamboo. The Puerto Rican student told police he has been using marijuana for the past two years, and the "brownies" were sent for his consumption.
Anjaya told the press that the case involving Dell Valle was the first smuggling attempt of its kind in Indonesia. "The marijuana in the cake was for (the defendant's) personal use, and we have found no information that he involved others in the drug's use or smuggling attempt. He has explained that he has been a user of marijuana for the past two years," the BNNP officer said.
Using the delivery address listed on the parcel, police undertook a "controlled delivery" exercise at the American's address in Sibang Kaja, Abian Semal, Denpasar resulting in the man's arrest. He is being charged under the National Anti-Narcotic Law Number 35 of 2007.
If found guilty, the Indonesian Court has wide latitude in sentencing under sections of the National Anti-Narcotics Law used to charge Dell Valle ranging from simple rehabilitation, four years in prison, life imprisonment, and fines ranging from Rp. 800 million to Rp. 8 billion