A 51-year-old American citizen, Robert Paul Evans, has ended his life by hanging himself from a tree a short distance from Monkey Forest Road in Ubud, Central Bali. Two Ubud Monkey Forest employees discovered his body at 9:55 am, hanging in a vacant lot on Monday, 18 October 2021.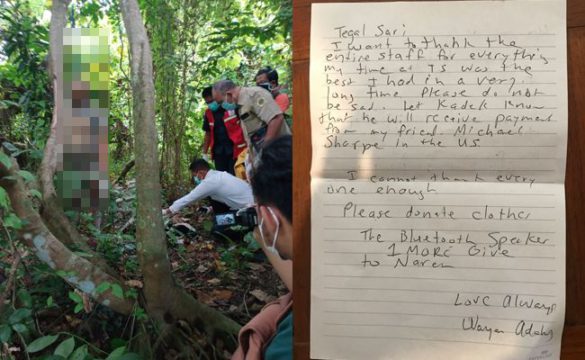 The location was not immediately visible from the nearby main road, a fact that help conceal Evan's body from passerby's. Police estimate the dead man had been in the location for two days before its discovery.
Evans was staying at the Hotel Tegal Sari on Jalan Hanoman, where letters were found confirming the man's desire to die, thanking the hotel staff for their care, and ordering the distribution of some personal effects.
One letter addressed to the hotel said: "I want to thank the entire staff for everything. My time at the TS (Tegal Sari) was the best I had in a very long time. Please do not be sad. Let Kadek know he will receive payment from my friend Michael Sharpe in the USA. I cannot thank everyone enough. Please donate my clothes. "
Police suspect that Evans took his own life due to an advancing case of multiple sclerosis and depression.
Evans requested that his remain be cremated in Bali.
Bali now has a 24-hour suicide helpline available in Balinese, Indonesian, and English.
 Indonesian and Balinese Language: 08113855472
 English Helpline: 08113815472
Related Links
24/7 LIDA Suicide Helpline in Bali