Avant-garde graffiti artist Cyril Kongo is one of many talented creative talents who have made their home in Bali. In collaboration with what is ranked among Bali's most luxurious resorts, Kongo has opened his Bali Studio L'Atelier by Cyril Kongo via a massive transformation of the entire top floor of Bali's five-star Apurva Kempinski Bali Resort.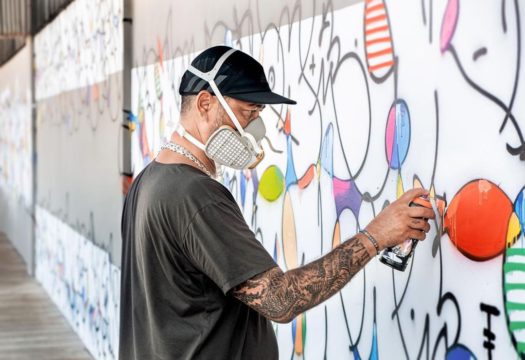 In keeping with a stated theme of "Kongo Lifestyle," Cyril creates a vibrant façade against what was formerly a set of simple grey walls. Striving to create an all-encompassing experience, Kongo is not content to merely overwhelm viewers with his graffiti! Too much is never enough for Cyril Kongo, who uses his exhibition to imbue atmospherics reflective of "the good life." These embellishments comprise a range of pre-selected hand-rolled Cuban Cigars; top-end champagnes, premium wines, fine whiskies, a talented DJ, and live music provided by a pianist.
The dramatic exhibition and "happening" occupy a 144-square-meter space on the top floor of The Apurva Kempinski Bali, which also provides commanding panoramic views of the adjoining Indian Ocean. The current collaboration between The Kempinski and Cyril Kongo has created a perfect stage to showcase this eccentricity, eclectic taste in art, and Bohemian aplomb to a Bali audience.
Kongo's pronounced passion for a refined way of living, his new Bali studio, and an international reputation for his"Kongo Lifestyle" exhibitions – all combine to attract an elite audience eager to experience his graphic art and the high-living atmosphere that characterizes his "events." 
Internationally renowned, Kongo's past artistic collaborators include Hermès, Richard Mille, Daum, La Cornue, and Chanel.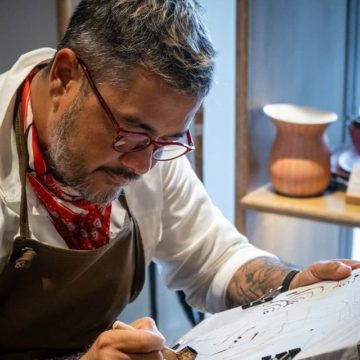 L'Atelier by Cyril Kongo opened on 17 June 2021. A new and iconic destination for Bali's elite, Kongo Lifestyle is open each week from Wednesday to Sunday on the highest floor of The Apurva Kempinski Bali from 5:00 pm until 8:00 pm. Minimum charge applies. For reservations, contact L'Atelier by Cyril Kongo by calling +62-(0) 811-38218770.
The Apurva Kempinski Bali
Standing atop the majestic cliffs of Nusa Dua and providing breathtaking views of the Indian Ocean and surrounding tropical gardens, The Apurva Kempinski Bali represents the epitome of beachfront luxury. This five-star resort in Bali presents itself as a majestic open-air theatre, an embodiment of Indonesian elegance. A collection of 475 iconic rooms, suites, and villas see 60% of all accommodation featuring private plunge pools. From a unique culinary journey and indigenous spa treatments to spacious meeting rooms and alluring wedding chapels.