The two Balinese policemen caught on video extorting a Japanese Tourist uploaded to Youtube, where it was viewed by more than 500,000, have finally been brought to justice.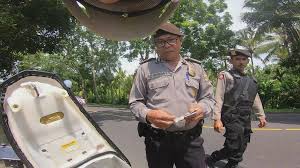 Police Sub-Inspector 2nd Class (Aipda) MD Windia, who was caught on-tape demanding Rp. 1 million from the Japanese tourist as a "fine" because the tourist's motorcycle headlight had malfunctioned, was found guilty at a police disciplinary hearing. As a result, Windia was demoted, relieved from active duty, and sent to a police lock-up at the Jembrana Police Station for 21 days. When released, he will be reassigned to a lower posting until he retires in early 2021.
Another policeman, Police Chief Brigadier (Bripka) I Putu Gunadi, was also disciplined when the same video show he passively stood by and consented to the commission of a crime, witnessing Windia's criminality without intervening and preventing the incident. The disciplinary proceeding also demoted Gunadi and sent him to lockdown for 21 days. He, too, will be reassigned upon his release from police detention.
As reported by Kompas.com, a police spokesman said the two police were put behind bars in detention on 30 September.
Both men managed to escape more severe penalties, despite spirited condemnation by senior police officials following the extortion act in which their superiors pledged the men would be fired. The disciplinary proceeding could have charged both men with an ethical failing that besmirched the police; a decision was made to charge the men with a lesser disciplinary infringement.
It is unclear if the police proceeding ordered MD Windia to apologize and pay restitution to the victim, the Japanese tourist – Style Kenji.
Related Site