The Tourism Service (Dispar) for the Regency of Badung is inspecting and verifying tourist attractions and areas frequented by tourist visitors in anticipation of Bali's reopening to domestic tourists scheduled for 31 July 2020.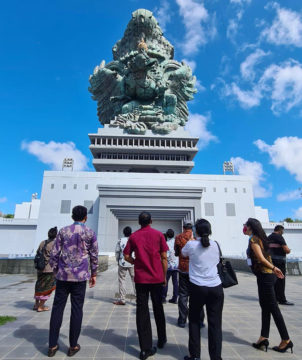 As reported by NusaBali, the inspection visits to tourist sites, including local restaurants, determine if mandatory health protocols established to prevent the spread of COVID-19 are being applied. The Head of the Tourism Industry Section of Dispar, Ngakan Putu Tri Ariawan, said on Friday, 10 July 2020, "today we undertook verification at four locations: Pura Taman Ayun, Sangeh Monkey Forest, the POD Chocolate Factory in Canagsari, and Alam Tirta Outbound also in Canangsari."
Ngakan explained that the verification of local tourism sites is done in stages. Inspections are made in response to requests from regency businesses and tourism site operators. Earlier, the Regency's inspection team paid visits on Inaya Putri Bali, Nusa Dua Beach Hotel, Katika Plaza Hotel, the Water Blow at Nusa Dua, the Garuda Wisnu Kencana (GWK) Cultural Park, Pura Uluwatu, Pandawa Beach, Kuta Beach, Beachwalk Mall, and Pepe Restaurant. Adding: "We have certainly visited several starred hotels. Because there is a new regulation from the Province of Bali, hotels – especially for 3, 4, and 5-star hotels will be inspected directly by Provincial Officials. Meanwhile, on the Regency level, we will only be inspecting tourist objects, non-starred hotels, spas, and restaurants."
Ngakan's statements were echoed by the Badung Regency's Head of Tourism (Kadis). I Made Badra, said that his team would be performing field-checks to determine the readiness of tourism objects, hotels, and restaurants to receive guests once again. Badra said: "The verification team must check the health protocols and socialize and provide guidance to businesses on how to enhance health and hygiene protocols. The teams will also determine places deemed suitable for certification who have demonstrated their preparedness to operate in the 'new normal.'"
Badra said that the verification teams examine three specific "readiness" aspects established by the Regency of Badung. The teams look at the standards and operating procedures of each establishment vis-a-vis the COVID-19 health protocols, the training in COVID-19 prevention protocols for staff, and the management's commitment to implementing health protocols in their daily operations.
Tourism objects and tourism businesses found to embrace all these aspects receive certificates signed directly by the Regent of Badung.