Bali's Provincial administration's long-awaited mass vaccination program is gaining steam as injections are becoming more readily available to the public. As reported by Balipost.com, those seeking a COVID-19 shot need only bring their KTP (ID Card) to their nearest health facility providing inoculations distributed by the Provincial or regional health services.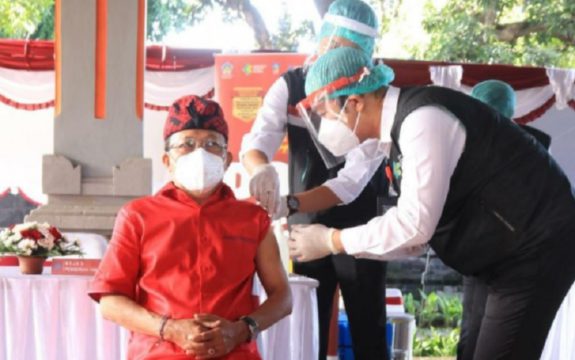 This increasing accessibility was revealed during a program broadcast on Bali TV on Friday, 05 March 2021. The chairperson for the Bali Provincial Mobilization Team and Family Health (PKK-Bali) and wife of Bali's Governor, Putri Suastini Koster, is inviting all PKK elements island-wide to urge neighbors and friends to seek vaccination.
Ibu Koster said it is the PKK's responsibility as a Provincial Government partner to ensure the vaccination program against COVID-19 is successful. Adding: "I wish to give an understanding to the public of the importance of vaccination so that we can escape the COVID-19 pandemic."
In socializing the need for vaccination to the general public, the PKK will enlist medical experts and others to explain the technical aspects of immunization. "For instance, at this time, in educating the public, we have brought the Bali Department of Health to provide detailed explanations about the vaccine itself, the process of vaccination, and other technical matters to make sure everyone truly understands," Ibu Koster explained.
The Chief Health Official for Bali, Dr. Ketut Suarjaya, said that in following Governor Koster's order, the Provincial administration is making access to COVID-19 vaccination easier. Adding: "It's enough to simply bring an ID (KTP) to the nearest health facility or vaccination center prepared by the Health Department, and you will immediately be vaccinated."
Suarjaya emphasized that there is no need to register beforehand using an SMS or online application. The removal of all impediments, he said, is to allow Bali to create a "herd immunity" in the shortest possible time before the targeted deadline of December 2021.
For Bali to achieve herd immunity, the second phase of vaccination needs to vaccinate some 3 million Bali residents with an average of 10,000 injections given each day. "That's for the first 2-4 weeks. After that, the rate of injections must be increased to an average of 20,000 shots per day to the public getting their first and second injection," said Suarjaya.
The vaccinations are being administered in waves. The first wave is for medical workers who form the vanguard in the battle against the coronavirus. Bali has mainly already been achieved the inoculation of medical personnel. The second wave is targeted for Bali residents living in isolated areas.
Bali's vaccine is the Chinese-made Sinovac with extensive clinical testing now completed and declared safe for the general public without producing any significant side effects.