Plans to reopen Bali to international tourism targeted for July 2021 are gradually taking shape.
On Friday, 11 June 2021 a coordination meeting on preparing Bali to welcome back foreign tourists was held at the Bali Tourism Polytechnic attended by the Indonesian Minister for Tourism and the Creative Economy, Sandiaga Uno.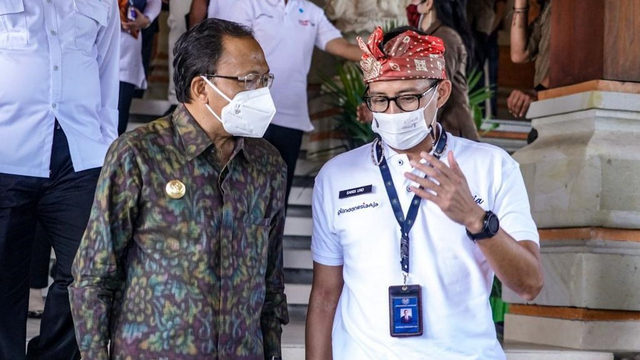 In that meeting that was also attended by Bali's Deputy Governor, Tjok Oka Artha Ardhana Sukawati (Cok Ace) standard operating procedures (SOPs) were reviewed surrounding how best to welcome international travelers back to the Island of Bali. Procedures to be put in place at Bali's Ngurah Rai Airport and the preparation of quarantine hotel were among the topics discussed.
Quoted by Balipost.com, Indonesian Minister of Tourism and the Creative Economy, Sandiaga Uno, said: "The President has directed us to identify strategic opportunities during the current pandemic and prepare Bali to take decisive, rapid, and coordinated steps towards recovery. By joining hands, we will revitalize Bali's position as the world's best tourism destination, all supported by a colossal vaccination program. This is the key to fulfilling the pre-conditions to restore Bali to economic health.
The Minister said management designs for prioritizing green zones and safe travel corridors in Bali are being reviewed. Procedures will also reportedly contemplate handling international tourists who will be comprised of both inoculate and non-inoculated travelers.
Plans are for arriving international travelers landing at Bali's Ngurah Rai Airport will be required to undergo PCR screening, wear face masks, and put in place strong sanctions for companies and institutions found to be ignoring health and safety protocols.
The Health Authorities at Bali's Airport will register arriving passengers while checking that body temperatures are below 37.3 degree Celsius.
Passengers will then proceed to immigration for visa processing followed by customs for baggage clearance. Public transport will be provided on vehicles that conform to government cleanliness, hygiene and safety protocols.
Visitors will be required to undergo a five-day quarantine period at a pre-selected Bali hotel. Passengers holding proof of vaccination will be placed in hotels that allow use of the public areas and hotel facilities, while visitors without certificate will be largely confined to their rooms for the quarantine period.
Any arriving passenger failing to pass the PCR Swab Test will be referred to a local hospital in Bali for further handling.