Balidiscovery.com has learned with great sadness of the death of a popular and long-time Bali resident, Paul-Louis Orrier, who died at age 78 in France on 28 October 2023.
Several years ago, diminishing health prompted Orrier to return to France. Known to many friends as "Polo Bali," he spent his final years designing and producing jewelry for a vast, admiring global audience.
Born in Madrid, Spain, on 02 July 1945, at the close of WWII, he received a French international education at the Lycée Français in Madrid. A truly Renaissance Man, Orrier's sophisticated intelligence, personal refinement, glamorous charisma, and love of fantasy have left a lasting impression on the world of couture.
Paul-Louis Orrier began his career in the world of fashion in the 1960s after graduating from the prestigious École Supérieure des Sciences Economiques et Commerciales (ESSEC), Cergy, France. As a young man, Orrier exuded an unquenchable passion for artistic creation and the expression of sublime femininity in his fashion designs.
The timing of Orrier's debut on the world fashion stage could not have been better timed. During the 1970s and 1980s, Paul-Louis Orrier made an important contribution to the dynamic evolution of French fashion. His daring creations, marked by a subtle blend of timeless elegance and contemporary fantasy, conquered catwalks around the world and dressed many celebrities, including Liza Minnelli and the former Queen of the Netherlands.
Along life's highway, between Paris and Bali, Paul-Louis Orrier founded Amok Jewelry, which enchanted admirers with a unique and diverse style that combined raw art and refinement.
Recognized for his ability to fuse glamor and modernity, Paul-Louis Orrier received many awards, including the Chevalier des Arts et des Lettres from the French Republic, affirming his status and reputation in international fashion circles.
His lasting influence is evident in every couture, every fabric, every piece of jewelry, and every silhouette he created. His passing leaves a palpable void in the creative world. His artistic legacy continues to live on through the clothes and creations that were embraced by an entire generation of fashion enthusiasts.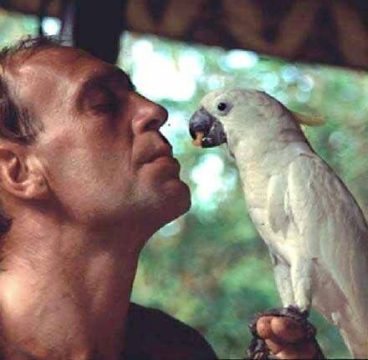 In Bali, Orrier will be remembered by a large circle of privileged friends who were monthly guests at Paul-Louis Orrier's gracious home in Kaba Kaba in Tabanan, attending monthly gatherings of opera aficionados who watched full-length classic operas presented on a large-screen video system presented in his living room, located next to an idyllic flowing stream.
A solemn Mass of Remembrance was celebrated in Paris at St. Roch Church on 284 rue Saint-Honore,1st arrondissement, at 2:00 p.m. on Thursday, 09 November 2023.
Those wishing to send a message of condolence may Email, Elise Orrier – Paul-Louis' daughter.
Stay Informed on Bali Tourism-Related News: Subscribe to Bali Update