As of 10 July 2021, the Province of Bali has vaccinated 85.71% of its populace and fully vaccinated (2 injections) 25.48% of all island residents.
As reported by NusaBali, through Saturday, 10 July 2021, the number of Bali residents receiving their first injection stood at 2,567,967 (85,71%) of the targeted 2,996,060 total population.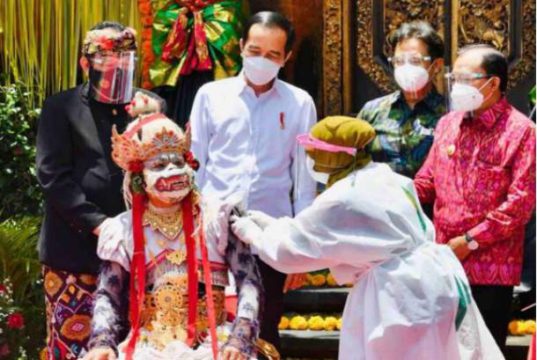 The total number of Bali residents who have received their second injection through 10 July is 763,761 (25.48%).
The actual numbers of people vaccinated in the Province are provided by the chief of Bali's Health Department, Dr. I Ketut Suarjaya.
Dr. Suarjaya claimed that the Province of Bali has achieved the highest level of vaccination nationwide. The second-highest level of immunization was recorded by Jakarta, followed by Jogjakarta, East Java, and Riau. "Nationally, Bali has the highest level of first and second vaccinations," Suarajaya explained.
Broken down further by municipality and regency, as of 10 July 2021, the following level of injections have been achieved in Bali:
Denpasar 503,305 (110.34% of the target)
Badung Regency 394,409 (111.04% of the target)
Tabanan Regency 300,093 (93.31% of the target)
Gianyar Regency 301,089 (85,34% of the target)
Klungkung Regency 125,375 (83.01% of the target)
Jembrana Regency 178,821 (77.53% of the target)
Karangasem Regency 265,035 (72.81% the target)
Bangli Regency 129,085 (63.37% of the target)
Buleleng Regency 370,065 (64.07 of the target)
I Ketut Kariyasa Adnyana, a member of Commission IX in charge of health matters of the People's Representative Council (DPR-Indonesia), is projecting that by the end of July 2021, Bali will achieve and over 70% vaccination coverage.
70% vaccination is a level often linked with "herd coverage" for the Island of Bali.