After being in lock-down for more than two months, the Bali Immigration Offices are staffed and open again. Initially, immigration offices are limiting services to the issuance of and extension of Indonesian passports and processing stay permits (KITAS) for foreign nationals.
As reported by NusaBali, the reopening of the immigration offices is authorized under a circular issued by the Director-General of Immigration addressing the resumption of service during the "new normal." Initially, the total number of visitors to any Bali immigration office will be strictly controlled and limited.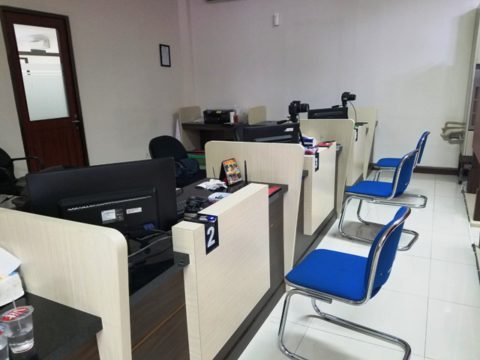 A spokesman for the Ministry of Law and Human Rights for the Province of Bali, I Putu Surya Darma, explained that the services now offered are limited to two categories: service to Indonesian nationals seeking to make a passport, and services to foreign national who want to extend their visas documents.
Service to Indonesian nations wishing to make a new passport commenced on Friday, 12 June 2020, but is limited to registering online for new passports using applications available from Play Store.
Indonesians wanting to request a passport or a passport extension must first register online using the application. After 15 June, applicants can come directly to the immigration office. Visits and use of the immigration offices will be governed with health protocols provided for under "the new normal."
When using online applications, the public can select which immigration office they want to use. The processing of the application involves immigration officials verifying data provided and then setting a date for the applicant to visit the subject immigration office personally. Immigration officials hope to optimize physical distancing by setting appointment times in advance by avoiding long queues at their offices. During the "new normal," immigration offices will serve only 50% of the usual quota of the public.
Meanwhile, foreigners seeking to change their permit/immigration status, obtain a temporary stay permit (ITAS), get an immigration status declaration (SKIM), register dual-nationality, and other services must first file a request by email to: imigrasingurahrai@yahoo.com. 
Immigration officials will process and verify the contents of the email. Immigration officials will respond by email explaining what is needed to complete the required remaining data and information whenever some elements are lacking in an application. Once immigration officials have input the required data into the computerized system, the applicants will be given a specific time to report to immigration for fingerprinting and photography.
Those visiting any immigration office in Bali are reminded to follow health protocols. These include submitting to a temperature check, wearing a face mask, washing their hand, and using hand sanitizers. Conversely, immigration officials are now using gloves, face masks, face shields, and glass separators.