Bali Governor Wayan Koster has eased newly issued national guidelines mandating business close at 7:00 pm and providing for 75% of the workforce performing "work from home" – deciding that business in Bali can, instead, close at 8:00 pm and only 50% need work from home.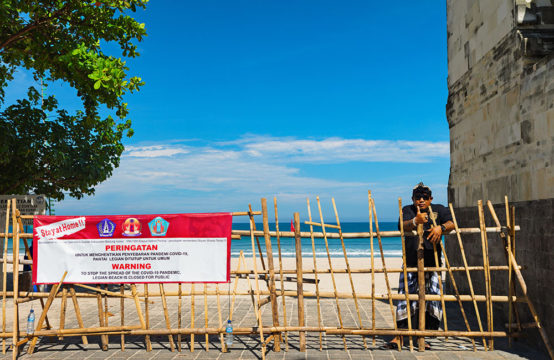 As reported by NusaBali, Koster consulted with the area military commander, the Bali Police, and Regents/Mayor of the Province before deciding to loosen the stipulations set out in the instructions of the Interior Minister in Decision Number 1 of 2021 on the Limitation of Public Movements to limit the spread of COVID-19.
The new "modified" rules in Bali mandating close down at 8:00 pm and Work from Home (WFH) level will be in effect for 14 days from 11 until 25 January 2020.
In at least one instance, Governor Koster has enhanced and strengthened the guidelines provided by Jakarta. While the Interior Minister wants restrictions on public activities and movements to apply only in Bali's Denpasar and Badung Regency capital, the Governor has extended these restrictions to include all the main tourist regions: Denpasar, Badung, Gianyar, Klungkung, and Tabanan.
The Governor told a local "talk show" gathering that restrictions on public movement are nothing new in Bali, with many villages and regions of the island implementing strict restrictions when there were outbreaks of high coronavirus infection rates in the recent past.
Despite limited lockdowns and strict COVID testing protocols for visitors, Bali still managed to attract 400,000 domestic tourists during the period 17 December 2020 until 05 January 2021.
The Governor also said that Bali's medical facilities still have sufficient space to handle additional COVID-19 patients, with bed occupancy at Bali hospitals averaging below 60%. Patients testing positive for the coronavirus but exhibiting no symptoms are being accommodated at quarantine centers established using Bali hotels.
Wayan Koster said that public compliance with health protocols such as wearing masks, washing hands, and maintaining physical distancing remains high in Bali.
Bali has now upgraded its policy on testing requirements for people traveling by land, sea, and air to Bali. Regardless of the means of transport used, all domestic travelers are now obligated to show a "negative" PCR Swab Test or Rapid Antigen Test.