A Denpasar man, Dewa Ketut Sunardiya (50), was taken into custody by Police after flying a kite that collided with an electrical transformer. The errant kite caused a short circuit at 4:45 pm on Sunday, 19 July 2020, creating a 5-hour outage for 71,121 PLN Customers in Kuta, South Denpasar, and East Denpasar.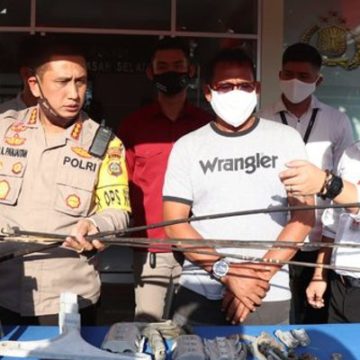 Kompas.com and BeritaDewata report, Sunardiya was flying a large kite with his child from an open field near the Port of Benoa. The kite was a massive affair with a tail measuring 150-meters long. After getting the enormous kite airborne, he tied the kite's string to a tree and abandoned it to return home.
Later, the unattended kite tied to the tree suffered a broken string sending it into free flight until it fell to the earth crashing into a PLN power line shutting down three transformers and a gas-based power generator at the Pesanggaransub PL Sub-station.
Police for the South Denpasar Police Precinct were able to trace the kite owner to his home, where he immediately confessed ownership and was arrested on Monday, 20 July 2020.
The kite owner was charged under Section 188 of the Criminal Code (KUHP), subsection 409 punishable by between one-month and five-years imprisonment. That section of the law outlaws any activity that results in a fire or an explosion that endangers others.
Police used the occasion of the arrest to remind the public to be careful in selecting areas for kite flying activities and never to endanger public or public facilities. The Police said the prosecution of Sunardiya was being pursued in order to deter others from causing damage or injuries affecting the public.
Meanwhile, Dewa Ketut Sunardiya has been released by Police under his own recognizance, he is required to report periodically to the Police, pending his possible criminal prosecution.