In Bali, police have arrested a roadside vendor in the Jimbaran area of South Kuta and charge him with butchering and selling Green Turtles (Chelonia mydas) – a protected species of turtle living in the seas surrounding Bali.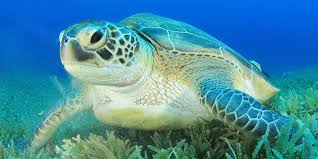 The vendor, Wayan Kayun, was arrested on Wednesday, 24 June 2020.
As reported by Kompas.com and Tribun-Bali.com, Syamsi, a police spokesperson from the Bali Provincial Police Command, confirmed that both Kayun and physical evidence of his crime are now in the hands of the police
In the course of making the arrest, police seized 12 live green turtles together with the carcasses of 20 dead turtles stored in a freezer Police also confiscated various cutting tools.
Police were able to make the arrest based on information provided by members of the public who had witnessed turtle meat being traded from 'Warung Kayu Manis" – a roadside stand on Jalan Bujut Hijau II No. 1 in Jimbaran, South Kuta. When police raided the stand on Wednesday, 24 June 2020, they discovered processed turtle meat rendered into sate and a local dish called lawar. Police also found a quantity of turtle meat that had been minced in preparation for cooking.
Police traveled from the stand directly to I Wayan Kayun's residence, where they found 12 live green turtles and a large quantity of rendered turtle meat.
The man and the evidence were transported to Provincial Police Headquarters, while 12 live turtles were handed for safekeeping to the Bali Conservation and Natural Resource Agency (BKSDA).
The live turtles were identified as Green Turtles (Chelonia mydas) – a reptile species protected under Indonesian law No. 5 of 1990 on Conservation that provides for punishment for those involved in the trade of an endangered and protected species of up to 5 years in prison with a maximum fine of Rp. 100 million.
Related Articles
Bali Tails A'waggin – with Your Help