The Roll-on Roll-off Vessel KMP Nusa Jaya Abadi that operates regularly between Padang Bai and Nusa Penida is out of commission after striking the reef near its docking pier at Nusa Penida.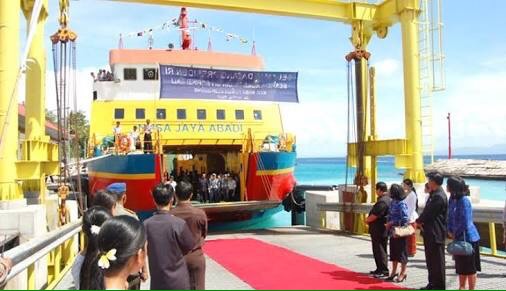 The ship struck the coral reef on Saturday, 17 October 2020, suffering damage to its hull and rudder steering system. The incident occurred just seven days after the 39.5-meters-long ferry had completed its annual docking on 10 October 2020.
The Regent of Klungkung, I Nyoman Suwirta, confirmed the temporary incapacitation of the vessel owned and operated by his region. Suwitra said on Monday, 19 October 2020: "two days ago (17 October 2020), at the Nusa Penida Pier during low-tide with strong tidal currents, the rudder broke after striking a coral head.
As reported by Tribun-Bali.com, the broken rudder was later retrieved by divers from the bottom of the ocean.
The 629 gross ton KMP Nusa Jaya Abadi carries a crew of 18 and can also accommodate 210 passengers, six trucks, and eight cars.
During the absence of the KMP Nusa Jaya Abadi, transportation from Bali to Nusa Penida will be handled by local landing craft and the fleet of fast boats serving the sector.
Repairs on the vessel are expected to take around two weeks to complete.