Plans to restart Car Free Days every Sunday on the road fronting the Puputan Margarana Field in Central Denpasar, Renon, and the Taman Kota Lumintang have been temporarily delayed following failed trials to reintroduce the popular weekend activity.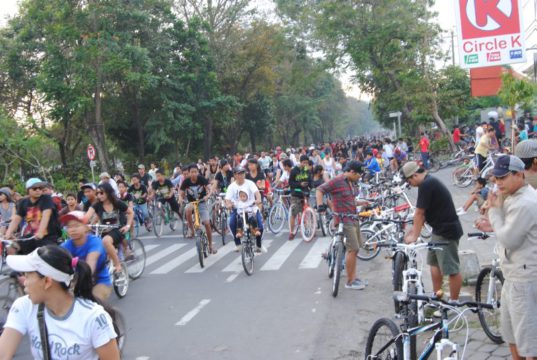 According to NusaBali, officials were reportedly disappointed when a "trial run" of the Car Free Day was held on Sunday, 12 July 2020, revealed many members of the public refused to embrace health protocols requiring physical distancing and the use of face masks.
The Head of the Transportation Department for the Municipality of Denpasar, I Ketut Sriawan, said on Friday, 17 July 2020, that the simulation held five days earlier showed members of the public refused to keep a safe physical distance from each other or wear the face masks know to prevent the spread of COVID-19.
Before the failed simulation, Denpasar officials had hoped to again block the two areas for pedestrians' exclusive use every Sunday morning following sudden termination of the Car Free Day earlier this year at the advent of the pandemic in Bali.
People flocking to the Park on the trial opening on 12 July simply ignored the officials urging the public to follow the health protocols needed in "the new normal." An estimated 5,000 people took advantage of the simulated reopening but ignored "best health practice" despite the surging rates of new infections now being recorded in Bali's capital.
Officials from the Transportation Bureau and the City Administration promised the Car Free Days would be reintroduced once it was determined there was little or no risk of spreading the coronavirus.