After lying dormant for almost five years, religiously fundamental elements within the National House of Representatives (DPR-RI) are rekindling discussions to ban nationwide the manufacture, distribution, and sale of alcoholic beverages.
In response to the latest national political offensive to ban alcohol in Indonesia, Bali's Governor Wayan Koster discounted the effort. Koster says the legal deliberation process would be problematic and lengthy, creating obstacles for those supporting efforts to make the ban law.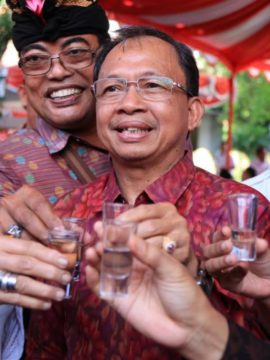 NusaBali says the new law draft, which largely mirrors the failed 2015 law, is supported by the PPP, PKS, and Gerinda political parties. These three parties control 26 % of the legislative seat in the DPR-RI.
Bali Governor Koster, opposed to the legislation, expressed a relaxed view towards the possible ban during a ceremony to hand out stimulus packages to small entrepreneurs held at his office held on Saturday, 14 November 2020.
Many circles are voicing concern that the emerging economy sector of traditional alcoholic beverage production in Bali, because of the proposed legislation, is facing an existential threat. Meanwhile, Governor Koster dismisses the proposed bill, commenting to the press, "There no need to discuss that now." Insisting that the possible ratification of the law is still a distant prospect, saying, "I am convinced the passage of the law won't happen."
The proposed nationwide ban on alcohol was also commented upon by a Balinese legislator and member of Commission VI of the DPR-RI, Putu Supadma Rudana, who said: "It's still just a suggestion. The consideration process will take place in the legislative body."
Supadma said that alcoholic beverage consumption remains inseparable from the tourism sector in Bali. "The proposed national law, if ratified, would have a major impact on tourism. Bali can not be separated from alcohol distribution as a major supporting industry to its role as a world tourism destination. Tourism in Bali must be safeguarded as the Island has no other natural resource," said Rudana.
Rudana admitted he has yet to see a detailed draft of the new law outlawing alcohol in Indonesia. In any case, he insisted that Bali must be exempted from any plan to ban alcohol in Indonesia.
Separately, Bali's tourism industry members have been quick in rejecting the proposed national prohibition law, saying such a law would deliver a fatal blow to Island's tourism industry.
The Deputy-chairman of the Bali Chapter of the Indonesian Hotel and Restaurant Association (PHRI-Bali), I Gusti Agung Ngurah Rai Suryawijaya, said, "Bali, as a tourism destination, is incompatible with the proposed prohibition on alcohol." For this reason, Suryawijaya, called for Bali to be exempted from any consideration of an alcohol ban, explaining that the new law threatens the very existence of tourism in Bali.
Rai Suryawijaya said that in addition to the need for natural beauty, culture, and conviviality, visitors to Bali also require alcoholic beverages to complement their enjoyment of local and international cuisine.
"Alcohol remains a basic need for tourist visitors. It is hard to imagine tourism without alcoholic beverages. If the issue is forced by the passage of the proposed prohibition law, Bali must reject the law or seek an exception. The Government needs foreign exchange from tourism," said Surjawijaya.
The Deputy Chairman for Tourism and Investment from the Indonesian Chamber of Commerce (KADIN), I Made Ramia Adnyana, termed the proposed law as "very tendentious." Ramia Adnyana commented that the proposed prohibition is fundamentally opposed to tourism, where alcohol is an essential product consumed by tourist visitors. Adding: "This is like eating food without salt; without alcoholic beverages, there is no tourism."
Adnyana estimates that Bali's tourism industry needs 12 million liters of "Class C" alcohol annually, 7 liters of which is satisfied by imported alcoholic products. "Class C" alcohol in Indonesia is comprised of beverages containing between 20% and 50% alcohol.
The remaining 5 million liters are fulfilled by local alcoholic products that include Balinese arak – a product being actively promoted by the Provincial Government of Bali as a means of economic empowerment for the Island's farmers.
In his capacity as the Deputy Chairman of The Indonesian Hotel General Managers Association (IHGMA), Ramia pledges Bali tourism's opposition to the proposed law that threatens the Island's tourism industry. Adding: "We do not want to see alcohol manufacture be placed on the negative investment list in Bali."
The chairman of the Indonesian Food and Beverage Association (IFBECI), Ketut Darmayasa, also has voice objections to the proposed legislation. He warns such a law threatens to cause losses to many parties, including local farmers now employed in producing traditional fermented beverages, resulting in widespread unemployment for companies holding licenses in the alcoholic beverage industry.
Meanwhile, if alcohol is banned in Indonesia, the Government would lose substantial tax and excise revenues.
The new law, strongly supported by United Development Party (PPP) that once used Islamic Kabah as its logo, would require prison sentences of between three months and two years with fines of Rp. 10 million to Rp. 50 million for those convicted of illegally consuming alcohol.
The prohibition law now under review provides limited exemptions for the use of alcohol in religious rituals.