A significant development in the revival of tourist numbers to pre-pandemic levels was marked by the arrival of Cathay Pacific Airways (CX), with a flight from Hong Kong landing in Denpasar on Sunday, 27 November 2022.
The return of CX to Bali means that Bali is now served by 24 international routes flown by 27 airlines.
Bali's airport has direct flights from:
Hong Kong
Perth
Sydney
Melbourne
Brisbane
Darwin
Adelaide
Cairns
Dili, Timor-Leste
Singapore
Kuala Lumpur
Penang
Manila
Bangkok (Both Suvarnabhumi and Don Muang)
Ho Chi Minh
Hanoi
Taipei, Taiwan
Narita, Japan
Incheon, South Korea
Dubai, U.A.E.
Doha, Qatar
Istanbul, Turkey
Amsterdam
As reported by Denpost.id and Balipost.com, Handy Heryudhitiawan , the general manager of Bali's Ngurah Rai Airport, said: "This is a strong signal for the restoration of Bali tourism as Hong Kong was one of the largest sources of air passengers before the global pandemic. In 2019, we (Bali) served 671,168 travelers from Hong Kong,"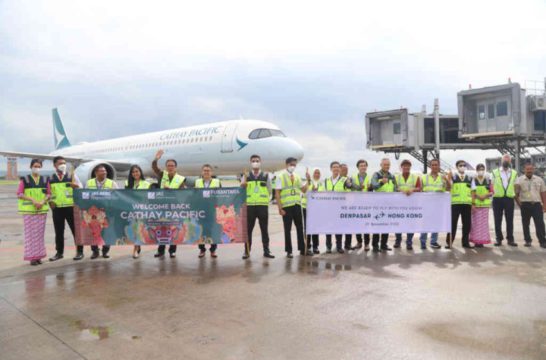 Before the pandemic, Hong Kong as an air hub and Cathay Pacific as an airline from that city were key players in Bali tourism. Because of its extensive worldwide network, Cathay Pacific carried large numbers of U.S., European, Japanese, Philippine, Taiwanese, and Chinese travelers to Bali. Cathey Pacific suspended air services to Bali when Mainland China and Hong Kong experienced substantial political unrest. Simultaneously, Cathay undertook a program of massive route, staff, and armada reductions. Many overseas sales offices of CX have been closed.
The return of Cathay Pacific to Bali was marked by the landing of an Airbus A-321 aircraft (CX 785) carrying 178 passengers from Hong Kong. The return flight (CX 784) departed on Sunday with 132 passengers on board.
Cathay Pacific now flies a daily service between Hong Kong and Bali. Before the Pandemic, Cathay Pacific operated two daily flights with additional flights connecting Surabaya and Jakarta.