The Bali Safari and Marine Park (BSMP), located just north of Denpasar on Jalan Bypass Ida Bagus Mantram, is targeting to reopen in Mid-July, subject to government approval.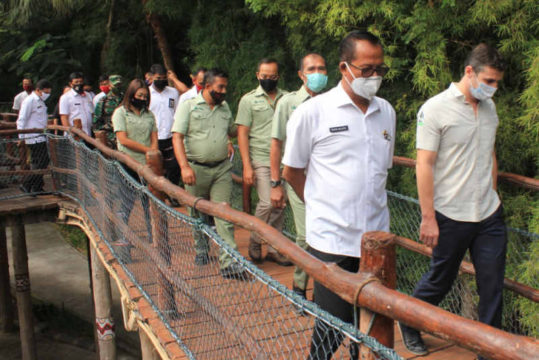 During the pandemic shut down period, the BSMP management has been busy rethinking every aspect of a park visit, creating new operating procedures designed to eliminate the risk of COVID-19 infection. These procedures emphasize physical distancing, facial masking, hand sanitation, cashless transactions, and repeated disinfection of all high-touch surfaces.
Anticipating the Park's reopening, a VIP-group from Gianyar Regency, led by the Regional Secretary for Gianyar, Made Wisnu Wijaya, recently paid an inspection site visit to ensure all is in readiness for the hoped-for imminent reopening. Also joining the inspection visit were the head of Gianyar's Tourism Service, Anak Agung Gde Putrawan, and representatives of the Armed Forces (TNI) received by the Park's general manager Thomas Colbert.
The official visitors were impressed to find all the employees of the Bali Safari and Marine Park were using personal protection equipment (PPE) that included face shields, masks, and gloves. Also much in evidence, was the regular disinfection of all guest transport, and hand sanitizer stations and washbasins that are now ubiquitous in every part of the Park.
Under strict new procedures, every vehicle entering the Bali Safari and Marine Park is sprayed with disinfectant with all visitors undergoing a thermal temperature scan.
Bali Safari and Marine Park's general manager, Thomas Colbert, told the press, "we are ready to meet the 'new normal' health protocols.'"
The Regency's Secretary, Wisnu Wijaya, explained the reason for the inspection visit, noting: "Bali Safari is the largest tourism object in Gianyar operated by a private company. The number of tourists visiting the Park is very large. We came to make sure the safety of the Park's guests is guaranteed."
During the visit, the inspection team made several suggestions to BSMP, including locations for additional handwashing stations and an automated thermal temperature system to permit Park visitors' faster processing. The Gianyar inspectors also recommended establishing a health clinic to handle visitors with any health problems immediately.
The Gianyar inspections team is now forwarding the results of their survey to the Regent of Gianyar. The Regent has the final responsibility, together with the Governor, to decide when the Park can receive the public and the initial maximum number of guests allowed to visit the Park in a single day.