The Badung Regency Hygiene and Environmental Agency (LHK-Badung) has deployed 600 cleaning personnel, 40 trucks, 5 bulldozers, and two beach cleaning machines to remove a large amount of seasonal flotsam and jetsom that washed up along the shores of Seminyak, Legian, and Kuta in Bali as 2020 drew to a close.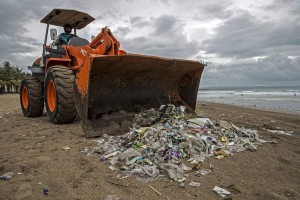 I Made Gede Dwipayana, coordinating the clean-up for the Regency, was quoted by NusaBali explaining that large piles of trash have begun accumulating along Bali's most famous beach areas, with almost the whole of Kuta beach inundated with shoreside debris on Saturday morning, 02 January 2021.
The large complement of workers and equipment began cleaning the beaches starting from 8:00 am on Saturday, 02 January 2020. Although the beaches were cleared by late afternoon, there were still piles of trash waiting to be hauled away by cleaning crews. Dwipayana said that during the single-day clean-up, 70 tons of debris had been hauled away to the Suwung Rubbish Dump, with mounds of trash sufficient to fill 100 trucks to be removed in the following days. 
Given the prevailing weather conditions of westerly winds, officials expect the accumulation of trash on Bali's southwest beaches to continue for the immediate future until winds eventually subside.
The onslaught of ocean trash is a seasonal event, happening on Bali's western beaches with the changing of the year.