The enterprising once highly successful asparagus plantation in the Traditional Village of Pelaga, Badung Regency, has suffered a crippling blow due to the COVID-19 pandemic.
A high quality and highly-priced product, much in demand by hotels and restaurants in Bali, the market for the delicious spears of asparagus have declined rapidly due to low occupancy levels and numerous hotels' closure.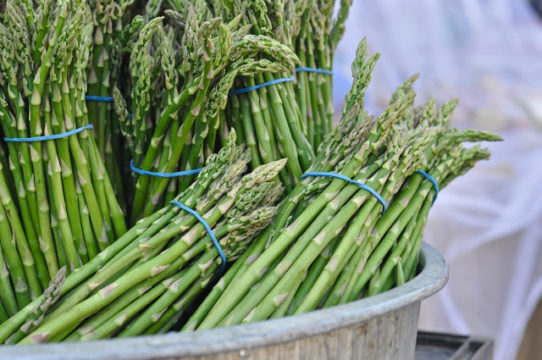 Quoted by NusaBali.com, Wayan Spariasa, an asparagus farmer from Pelaga, said on Saturday, 20 March 2021: "Asparagus is much liked by foreign visitors with strong demand from hotels before the pandemic. But, now, because of the current situation of tourism in Bali, the impact is being felt by local farmers."
In the recent past, the cultivation of asparagus was promising because of its high price in the marketplace. Research performed on the crop confirmed that asparagus grown in Pelaga is of very high quality.
Wayan said the seed stocks used to grow asparagus in Pelaga were of the first quality and imported from the USA. Before the pandemic, local farmers could sell a kilogram of fresh asparagus for between Rp. 60,000 and Rp. 100,000. Due to the sudden lack of demand resulting from the coronavirus pandemic, the price has now dropped to around Rp. 30,000 per kilogram.
Requests for Pelaga's high-quality asparagus now comes chiefly from supermarkets. "If hotels, it's been a long time since we had any requests. Only the supermarkets remain. And even the supermarket sector has seen reduced demand, with Pepito and Bintang Ubud still purchasing the high-end products but in smaller quantities,' bemoaned Wayan.
Asparagus, which is credited with controlling high blood pressure, is a highly sensitive crop and requires intensive attention during cultivation.
"The soil, temperature, and weather will all affect the growing process for asparagus. The soil must have a pH of 6-17, and the temperature maintained between 20-25 degrees centigrade. If it's too cold the development of the plant will be slow. Good weather during the rainy season is needed, but water should not fall directly on the asparagus, and the plants need a plastic protective roof for protection," explained Wayan, who cultivates a 3-hectare plot of asparagus. Because the plants are grown year-round and in rotation, fresh crops for sale were once harvested daily. Now, because of the pandemic, asparagus is harvested only once every 45 days.
Asparagus grows very quickly. The plant can grow between 2 and 20 centimeters in a single day. Wayan explained that stalks of asparagus sold measure between 20-25 centimeters long. Supermarkets want very straight stalks for display and sales purposes, even though bent stalks are very edible. The leading indicator remains that green asparagus is suitable for consumption. Yellow stalks have been affected by mold and are no longer fit for sale or consumption.
Recent heavy rain and bad weather have reduced daily production to between 5 and 15 kilograms. With better weather, production increases to 25 kilograms per day.
Asparagus producers are praying for better days ahead with more foreign tourists with a taste for their precious crop visiting Bali to drive prices and production back to former levels.