Beritasatu.com reports that the Bali Winery – PT Hatten Bali is preparing an Initial Public Offering (IPO) of shares. Reports say the Company will release 678 million new shares with a nominal value of Rp. 50 per share or a maximum 25.02% of the projected fully paid-up capital after the IPO.

Hatten Bali is offering the new shares at a price of between Rp. 100 -Rp. 150 per share resulting in a targeted possible maximum yield of Rp. 101.7 billion from the IPO.
Acting as guarantor for the issuance of the new shares is NG Korindo Sekuritas Indonesia. The current shareholding of the Company is shared equally at 50% each by Ida Bagus Rai Budarsa and PT Gotama Putra.
PT Hatten Wine was founded in 2000 by Ida Bagus Budarsa. The Company launched its winemaking venture with a single vintage of Rosémade from Bali's Alphonse Lavallée Grape.
The Company's stated philosophy was to secure a place for a wine grown and processed in Bali that can compete globally.
After two decades of operation, PT Hatten Wine produces a range of wines: Aga White, Sweet Alexandria, Aga Rosé, Aga Red, Sweet Syrah, Tunjung Brut Sparkling, Jepun Sparkling Rosé, Pino De Bali, Bali White, Bali Rosé, and Bali Red.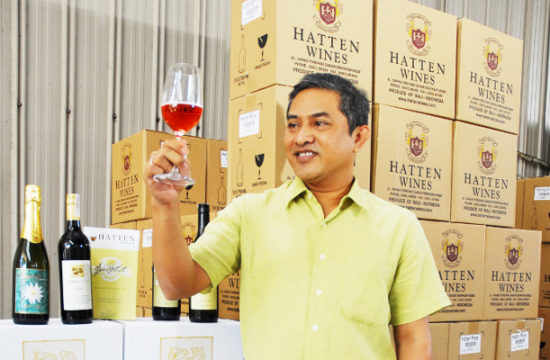 Funds generated by the planned IPO, after deducting the cost of the emission process, will be allocated as follows:
Approximately 20% to be used as working capital to increase brand awareness in areas beyond Bali, holding promotional events, merchandise, sponsorships, and securing social media placements.
Approximately 80% will be used as a capital injection to a Hatten Wine subsidiary – PT Arpan Bali Utama, to purchase grapes, grape juice, and supporting items such as bottles, labels, and cardboard cartons.
Overview – IPO Hatten Bali (WINE)
Initial Period of Offering: 19-22 December 2022
Effective Date: 29 December
Public Offering period: 2-5 January 2023
Allocation date: 05 January 2023
Share distribution date: 06 January 2023
Date for listing on the Indonesian Stock Exchange (BEI): 09 January 2023