New instructions issued by the Minister of Home Affairs (No. 10 Tahun 2022) set new rules on limiting activities and public movements for the entire island of Bali, now categorized as a PPKM Level 3 Region.
The categorization of Bali at Level 3 and the new public movement guidelines took effect from 15 February 2022.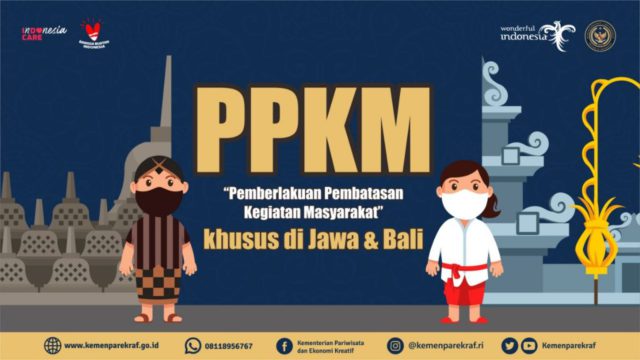 As reported by BaliPost.com, the Secretary of the Bali Provincial COVID-19 Task Force (Satgas COVID), Made Rentin, confirmed in a written announcement that Bali would remain at a Level 3 Category from 14 February until 21 February 2022.
Current COVID-19 Infection Rates in Bali
Bali was classified at the more cautionary "Level 3″ status due to a sudden upsurge in new cases, with "active cases" now calculated at 19,344 people.
Speaking on 15 February 2022, Rentin explained that 1,177 COVID patients are now hospitalized in Bali, a number representing 6.08% of all active infections. Meanwhile, 89.4% of the active cases totaling 17,293 people are self-isolating at home with mild or no symptoms.
Centralized isolation facilities are currently used by 874 people or 4.52% of all active cases. Rentin outlined that the provincial government of Bali operates 30 centralized isolation centers for COVID-19 patients with a capacity of 1,946 beds. "874 of the available beds (in centralized isolation centers) are now occupied, representing 44,91% with a remaining 1,072 beds unoccupied at this time," wrote Rentin in his published release.
PPKM Level 3 Stipulations
The Minister of Home Affairs, Tito Karnavian, has explained that Bali and other regions of Indonesia classified as PPKM Level 3 must conform to the following regulations:
Workplaces operating in areas of the economy deemed "non-essential" are allowed to open with staffing levels at 50% of normal levels. The remaining 50% of staff should be directed to work from home.
Workers reporting to the workplace should all be fully vaccinated and scan the government-sponsored PeduliLindungi online application every time they report to work.
Public areas, parks, tourist attractions, and other areas where people gather in numbers must operate at no more than 50% of their normal capacity. Those using any public areas are obligated to follow all health protocols set forth by the Indonesian Ministry of Health and the Ministry of Tourism and the Creative Economy CHSE Protocols.
CHSE protocols stipulate procedures on the wearing of face masks, body temperature monitoring, physical distancing, and the requirement for frequent hand washing. Visitors to these public gathering areas must also be fully vaccinated and use the PeduliLindungi Application.
Children under the age of 12 visiting public areas must be accompanied by a parent.
Children between the ages of 6 and 12 years required to show proof of a minimal first dosage of COVID-19 vaccine.
Artistic and cultural activities, sporting events, and community activities must be operated at 50% of their normal capacity. Again, health protocols must be strictly followed and PedulLindungi screening completed at all entry points for these activities.
Economic centers, such as shopping centers, malls, and supermarkets can operate at 60% of normal capacity and only remain open until 9:00 pm, while traditional public markets may remain open until 8:00 pm.
Private constructions sites can operate at 50% worker capacity.
Places of worship are limited to 50% of their usual capacity.
New Testing Targets
Testing targets for every regency and the City of Denpasar are increased during the PPKM Level 3 period. The daily target for testing across Bali: Badung Regency (1,040 tests); Bangli Regency (495 tests); Buleleng Regency (1,441 tests); Gianyar Regency (1,132 tests); Jembrana Regency (405 test); Karangasem Regency (906 tests); Klungkung Regency (389 tests), City of Denpasar (1,454 test) and Tabanan Regency (973 tests).