A quiet revolution is underway on the Island of Bali, fuelled further, to some extent, by the continuing difficulties precipitated by the continuing global pandemic. Innovation, hand-in-hand with necessity, have caused large segments of the local population to rediscover their agricultural heritage by working the land.
The resulting "back to the earth movement" sees people who formerly worked in hotels, restaurants, and travel agencies rejoining their parents as agriculturalists on ancestral lands. Exciting new plant-based industries linked to the land such as cashew cultivation, vineyards and wineries, and chocolate production are prospering, creating domestic and export markets to diversify the Balinese economy.
Introducing POD Chocolate
Among these promising ventures in Bali is Pod Chocolate. Established in 2010, Pod Chocolate works with local cocoa farmers to produce chocolate at its factory in Mengwi which incorporates a cocoa farm and education center together with a retail outlet in Sanur.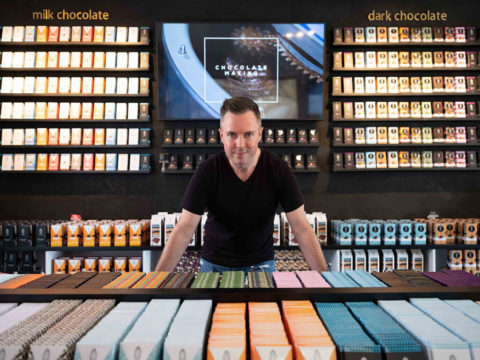 With historic roots tracing back to the Aztec Empire in the 15th century, chocolate's popularity spread globally and by the 19th century was enjoyed in every corner of the world. Today, the global market for chocolate is estimated at US$ 7 billion a year, with worldwide average chocolate consumption estimated at 0.9 kilograms per capita per annum. Meanwhile, the Swiss hold the record, devouring an average of 8 kilograms of chocolate per person per year – that's nearly 22 grams of chocolate eaten each day.
Accordingly, the global market to meet current and future demand for chocolate is enormous.
Pod Chocolate Bali
Established in 2010, Pod Chocolate is credited with operating Bali's "first fully plant-based chocolate factory," using modern machinery from Europe to create a complete range of dark, non-dairy milk, and white chocolate. Starting their enterprise in a simple thatch-roofed hut, now, a decade later, Pod Chocolate produces a premium range of artisanal chocolates made from their own organically grown beans processed to culinary perfection in a world-class factory.
At the beginning, armed with little more than an ambition to create chocolate ranked among the world's best and a firm commitment to contribute to the Island of Bali, POD's Founders discovered local cacao farmers in a state of disarray. Many farmers had abandoned their crops to pests, selling their cacao beans for a fraction of market value. POD's initial two years were spent earning the trust of local farmers, who they persuaded to use microorganism-based organic and sustainable methods of pest control and composting. Applying "green" know-how and innovation at both the upper and downstream extremes of the production milieu, post-harvest improvements in fermentation and solar drying methods quickly created quality beans that were the envy of cacao growers across the region.
In the passage of just two years, cacao production from the fields under POD's tutelage had doubled, creating beans that sold at twice the price of what farmers were earning before their involvement.
POD then turned its attention to the second-largest ingredient in its value chain: sugar. Using the proven method of reaching out to local farmers, in 2014, POD began working with local coconut and lontar palm farmers to secure a dependable supply of healthier unrefined sugars instead of the less desirable ingredient of refined white sugar. POD's cooperative community-based approach bore tangible results.
Cacao quality and production both markedly improved.
Smiles All Round
Steady demand for high-quality cacao, purer sugars with lower moisture content resulted in an agricultural product that sold at a higher market rate, managing to put smiles on the faces of POD's chocolatiers, cacao growers, and sugar producers.
Cacao beans and sugar supplies sorted; POD then sought to reduce its carbon footprint by limiting its dependence on imported milk powder by seeking suitable non-dairy substitutes for use in the production of "milk chocolate." The goal: creating a healthier plant-based non-dairy milk chocolate that was creamier and tastier than regular dairy. Mission completed.
POD has pioneered non-dairy milk blends that rely on plant-based carefully-sourced ingredients that do not sacrifice taste or quality. The Company is justifiably proud of the resulting outstanding quality milk chocolate and chocolate spreads that contain less than half the sugar of other popular non-dairy spreads.
Produced to a high quality and variety that must make Nutella nervous, POD Chocolate creates chocolate & hazelnut, as well as chocolate & cashew spreads with less than half the sugar of competing spreads.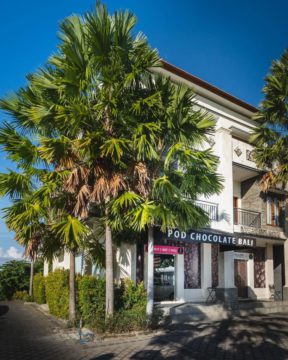 Visit POD Chocolate in Two Locations
Bali visitors wishing to understand more about the exciting story of POD Chocolates in Indonesia, view cacao being grown, and witness the beans processing into a delectable range of chocolates – only need to book a tour via the Company's website or visit the main factory and outlet at Jalan Denpasar-Singaraja No. 29 in Mengwi – contactable by telephone at +62-(0)361 2091011.
Those seeking a more "bite-sized" chocolate experience closer to the many hotels in the Island's south can visit the Sanur POD Shop & Café located in Sanur at Jalan Bypass Ngurah Rai No. 25 or telephone +62-(0)361 2400.
A HOT TIP: POD's Hot Chocolate – Worth the Trip
If you're in search of the most perfectly indulgent cup of Hot Chocolate – look no further than the coffee, tea, and beverage bar at either POD Chocolate location. As if the lavish lathering of rich chocolate and the creamy non-dairy "milk" weren't enough, the cup of piping hot chocolate comes to the table with a chicken-sized milk chocolate "egg" filled with tiny marshmallows. Drop the chocolate egg into your cup of steaming hot chocolate and watch it slowly dissolve in the cup delivering another delicious layer of chocolate.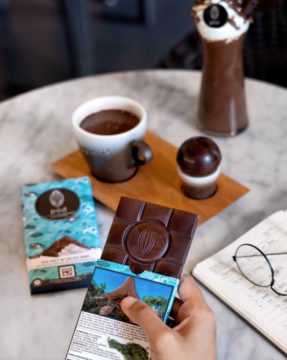 POD Hot Chocolate comes with an added pod of chocolate filled with marshmallows: The perfect beverage to accompany an extended tasting session from an abundant supply of free samples available from their range of POD's world-class chocolates that meet the Company vision and mission to create chocolates that are:
Sustainable
Healthy
Plant-based
Delicious
And, Made in Bali