Bali's Governor Wayan Koster remains firm in his campaign for the promotion of Arak – the Bali homemade distilled alcoholic beverage made from tuak derived from the coconut palm flower. Arak can vary widely in potency, ranging from as little as 5% to alcohol levels above 50%. Arak can also be made from Brem or rice wine combined with coconut milk.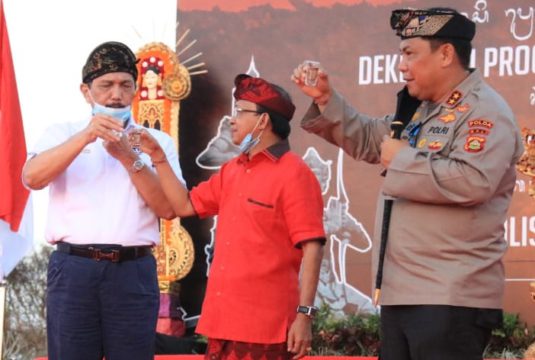 As one of his first officials acts in the year 2020, Governor Koster passed Gubernatorial Decree No. 1 of 2020 on the Management of Fermented and Distilled Balinese Beverages to bring about the standardization and guarantee safety in the production of Arak by Balinese farmers. That same decree also provided for the promotion of Arak to the marketplace.
The Governor is going one step further and quite literally proposing a toast to the future of Arak to become a standard feature at official and corporate events in Bali. During an official visit to Karangasem in East Bali, Koster proposed an after-dinner "toast" using Arak. On that occasion, the Governor was accompanied by Deputy-Governor Tjokorda Oka Artha Ardhana Sukawati (Cok Ace), Provincial Secretary Dewa Made Indra, and the Chairman of the regional House of Representatives (DPRD-Karnagasem) I Gede Dana.
Separately, on Thursday, 30 July 2020, at an official event at the ITDC in Nusa Dua attended by the Coordinating Minister for Maritime Affairs and Investment, Luhut Binsar Pandjaitan, and the Minister of Tourism and the Creative Economy, Wishnutama Kusubandio – Bali's Governor also used Arak to toast the occasion.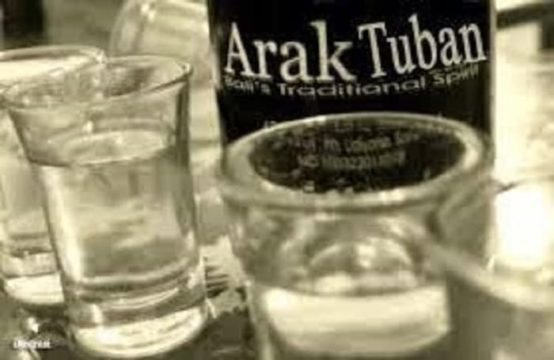 The festive merriment prompted the Governor to propose a toast and to say the following: "At every dinner, it must become obligatory that guests are provided with a shot of Arak. Therefore, I ask that the Deputy-Governor, who also serves as the Chairman of the Bali chapter of the Indonesian Hotel and Restaurant Association (PHRI-Bali), to promote the use of Arak at hotels and restaurants actively. This should be done so that people visiting Bali bring back a souvenir of a bottle of Arak Bali."
"At every dinner, it must become obligatory that guests are provided with a shot of Arak."

Wayan Koster – Governor of Bali
Quoted by Balicitizen.net, Koster said during a visit to Tri Eka Buana Village in Sideman, Karangasem: "I feel grateful that our farmers now have a legal umbrella so that the consumption of arak will improve the welfare of people, such as those living in the Karangasem Regency and other districts in Bali."
The Governor's pronouncement was greeted with enthusiastic applause by the farmers in attendance.