Neighboring sister hotels on iconic Sanur Beach in Bali – Hyatt Regency Bali and Andaz Bali are putting a whole new spin on the meaning of "beachcombing" with the introduction of an innovative state-of-the-art beach cleaning robot as part of Hyatt's environmental sustainability initiative.
Introducing BeBot
Looking like something from the cast of the Star Wars movie franchise, BeBot is a beach-cleaning robot – the first of its kind – that is both environmentally friendly and quiet enough not to disturb napping sunbathers. Operated by remote control from a maximum distance of 159 meters, BeBot is a 100% electrically powered vehicle that emits no harmful gasses as it "plows," steadily cleaning the beach at a top speed of 2.7 kilometers per hour.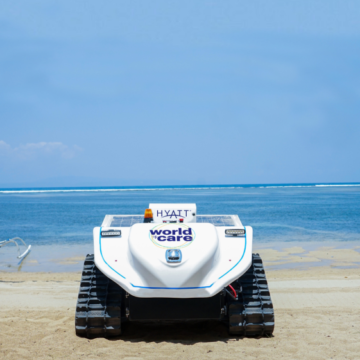 Along the way, Hyatt BeBot efficiently screens and sifts sand, rakes seaweed, levels off, and manicures sand to a zen-patterned standard of perfection. A large collecting basket captures up to 100 liters of 1 cm or less in size comprised of stones, trash, and shards of broken glass that are periodically disgorged at designated collection points for further sorting and final disposition.
Operating on batteries, The Hyatt BeBot can run for 3 hours between recharges that require 8 hours to complete. The Hyatt Bebott cuts a swath of 130 centimeters at a "light footprint depth" of only 10 centimeters. The Beach Cleaning Hyatt BeBot can clean 3,000 square meters in a single session.
Manufactured by Searial Cleaners – A French company working in partnership with the Italian Niteko Robotics – The Hyatt BeBot mission is inspired by the knowledge that 90% of plastic waste comes from the world's coastlines.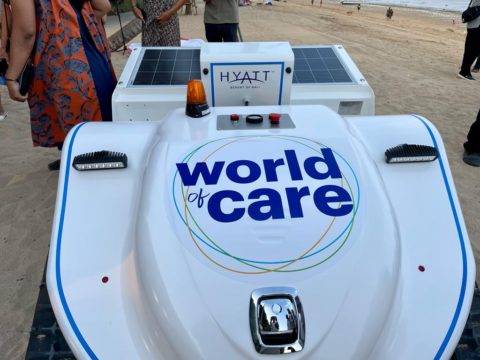 BeBot is accomplished at locating plastic and other waste on fine sandy beaches and is pioneering the world's first coastal waste management range of appliances and equipment.
Hyatt Regency Bali and Andaz Bali lead eco-friendly beach cleaning with The Hyatt Bebot, the electrically powered, remotely operated robot. Hyatt Bebot's primary focus is to efficiently remove plastics and debris from the beach while safeguarding the local flora and fauna.
Local media and influencers attended the official launch of The Hyatt Bebot on Tuesday, 31 October 2023
Hervé Mazella, the Resorts' Managing Director, commented at the unveiling: "With Hyatt Bebot, we're enhancing our sustainability efforts in beach cleaning, offering our guests and community pristine shores while championing environmental preservation."
In line with Hyatt's commitment to innovation and caring hospitality, the beach cleaning technology will be deployed at Hyatt Regency Bali, Andaz Bali, and Grand Hyatt Bali.
Continuing, Mazella said: "Harnessing the power of the new technology, Hyatt Bebot efficiently cleans, preserving their natural beauty and contributing to our commitment to a greener future. Guests can look forward to a cleaner, more sustainable coastal experience, reinforcing our dedication to hotel and environmental stewardship. Together, we are paving the way towards a brighter, cleaner, and more sustainable Bali, one beach at a time, with Hyatt Bebot."
Related Links
Stay Informed on Bali Tourism-Related News: Subscribe to Bali Update