Interview: Chef Made Karyasa – Bejana, Ritz-Carlton, Bali
Long-awaited news on the local culinary scene is the reopening of Bejana – The Ritz-Carlton, Bali's signature Indonesian restaurant. Bejana's doors are once again open for hotel guests and visitors to enjoy a culinary journey across the Indonesian archipelago from its breathtakingly beautiful cliff-side location perched above the azure Indian Ocean.
The Bejana operates under the watchful eye of its Senior Chef de Cuisine, Made Karyasa, who has become a celebrity ambassador for Indonesian cuisine over two decades spent cooking in Bali, Beijing, India, and Singapore. Passionate about the cooking traditions of the Balinese Paon or kitchen, Karyasa's has had a leading hand in fashioning his professional domain at Bejana, including the aptly-named Culinary Cave – a demonstration kitchen and dedicated dining area surrounded in black stone and on the upper level of the restaurant. A caveman who wears a white hat, armed with an encyclopedic knowledge of modern and traditional cuisine, Karyasa conducts cooking classes and prepares superlative meals for the many guests who make repeated visits to sample all the dishes offered on its menu.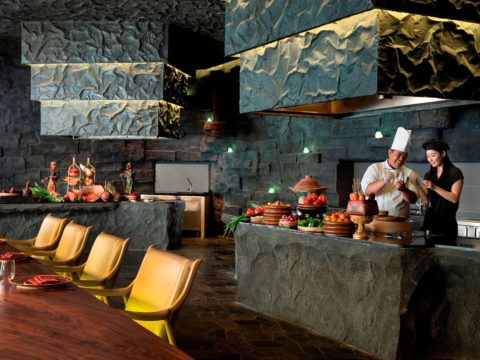 Made Karyasa has an almost cult following of loyal patrons, enthusiastic fans who witnessed his appearance as a finalist on the popular TV Show Top Chef, and foreign devotees met on overseas cooking missions who make a pilgrimage to Bali to once again sample his cooking prowess.
On the eve of the reopening of Bejana, Balidiscovery.com and Bali Update were privileged to catch up with the remarkable Chef Karyasa for a brief interview and a chance to meet the man whose personal mantra is "authenticity in flavor is crucial."
Interview
Made Karyasa – Senior Chef de Cuisine
Bejana Indonesian Restaurant – The Ritz-Carlton, Bali
Bali Update: First, thanks for fitting us into your busy schedule. You are a Balinese Chef who has brought fame to the Island by cooking on missions and assignments worldwide, including appearances in Singapore, Beijing, and India. What are your earliest "cooking memories," and what drew you to a career as a chef?
Made Karyasa: My earliest kitchen memories are watching my beloved mom, Ibu Ni Ketut Ciri, cook Sambal Suna Cekuh at my childhood home in Kintamani. My mom made the best sambal using fried shallots, red and green hot chili peppers, garlic, aromatic ginger, and shrimp paste. As I grew up, my mom's delicious cooking brought me back time and again to her kitchen to enjoy great food and learn more about Balinese cuisine.
Bali Update: Chef Made, your Balinese food is internationally acclaimed as "outstanding." You have made the Bejana Restaurant legendary. Surprisingly, very few international hotels in Bali are renowned for the quality and taste of their Island cuisine. How have you managed to break the "mold" and create a very successful Balinese restaurant situated in one of Bali's finest five-star hotels?
Made Karyasa: Authenticity in the recipe and preparation method is the key to preparing excellent Indonesian cuisine. I am on the constant prowl of local markets in search of the best, freshest ingredients. Because cooking styles and ingredients vary considerably in each region of Bali, I use every opportunity I have to visit village kitchens and meet the women who work in them to learn new recipes and new uses of traditional cooking techniques. Then, I bring the ingredients I discover in local markets and the latest newfound recipes back to The Bejane for further experimentation with my team.
Whenever disagreements or confusion emerge in the cooking process, I always imagine cooking for my mother and then prepare the dish in a way I know she would approve.
Bali Update: Bali consists of a Capital City and eight different regencies roughly mirroring the ancient kingdoms of the Island. There are distinct differences in the styles of Balinese cooking found in each region of the province. Chef Made, you originally came from Kintamani – the volcanic lake district located in the Regency of Bangli. What's your favorite food local cuisine you remember your Mother's kitchen while growing up?
Made Karyasa: Again, as I mentioned earlier, my mom makes the best Sambal Suna Cekuh. Sambal comes in an almost endless variety of flavors and is an obligatory condiment to accompany practically every Indonesian dish. In Bali, if we're in a hurry or perhaps money is short, we can make a meal of a bowl of white rice ladled with generous spoonfuls of sambal. Sambal is one of the most important elements of Indonesian cuisine. Indonesians will always have sambals on hand to accompany their meals – it awakens the appetite!
Bali Update: Can you explain what a "basa" is and its role in Balinese cooking? Would you please share how many different kinds of "basa" exist and their role in Indonesian cuisine?
Made Karyasa: "Basa" is a blended cooking paste composed of a variety of native spices. Basa Genap is the most basic and commonly used Balinese cooking paste. Other specific forms of basa are used depending on the ingredient being cooked, such as poultry, beef, seafood, and pork.
"Basa" is at the very core of many Balinese recipes and is combined with other spices to prepare the Island's food. I employ basa in much of my cooking. "Bumbu" is the Balinese word for "spice." My favorite types of basa are white bumbu and yellow bumbu. For example, Basa Kuning or yellow bumbu can help make a range of classic Balinese dishes from sate lilit to ayam betutu.
Bali Update: Chef Made, pork plays a central role in many Balinese recipes, making the Island's cooking very distinct from the rest of Indonesia, where, unlike Bali, Islamic dietary mores prevail. Not unsurprisingly, Bali produces outstanding quality pork. What are some of your favorite pork dishes?
Made Karyasa: I think almost every Balinese, if asked what their favorite pork dish will answer "Babi Guling" or "roast suckling pig." Bejana features three different themed dining events every Friday, Saturday, and Sunday. Not surprisingly, Bejana features "Babi Guling" among the selections available during our Friday buffet when we have a wide selection of Balinese dishes, including a dedicated food station for Babi Guling. It takes around 4 hours of cooking time to evoke the authentic flavors of Balinese Babi Guling, including marination and basa rubs, and the hours-long slow roasting on a rotisserie. This process results in tender, succulent meat encased in a crispy "cracklin." skin.
For Bali visitors who enjoy eating pork, at least one Babi Guling meal – hopefully enjoyed at Bejana – should be on their "must-do" list.
Bali Update: Let's fantasize for a moment. Imagine you are called upon to serve a VVIP dinner for Heads of State who will be attending the G20 Summit in Bali in November 2022. The challenge: Design a "Best of the Best in Balinese Cuisine Menu" for such a prestigious event and share what you would serve. Because the assignment is for a genuinely VVIP dinner served in Bali, please feel free to include pork items.
Made Karyasa: What a great honor and opportunity that would be! Here's the menu I would serve world leaders:
Starter
Combination platter of Balinese fish "Satay Lilit" with sambal matah, "Tum Bebek" with ginger flower, "Coconut Lawar" and shrimp paste sambal
Soup
Pesmol seafood soup, lime
Main course
Babi Guling with urutan sausage, sambal emba, yellow paste cassava leaf, classic pork satay, pork crackers, and young banana trunk soup
Dessert
Black sticky rice ice cream with Telang flower cake
Bali Update: O.K. Let's fantasize a bit more. Imagine that you have just had a difficult day of work and are perhaps feeling a bit down. What's your favorite Balinese "comfort foods" you would prepare at home guaranteed to get you smiling again?
Made Karyasa: When I need healing Balinese "soul food," I invariably sit down to a plate of fried chicken served with "sambal setan" – hot spicy sambal, so powerful that we call it "the devil's sambal."

Bejana Restaurant at The Ritz-Carlton, Bali
Bejana is open for dinner on Fridays, Saturdays, and Sundays.
For more information:
Telephone: +62-(0)361 849 8988