A Sustainable 'No Walls, No Doors' Experience in the Heart of Bali.
Buahan: A Banyan Tree Escape is Bali's newest luxury boutique property scheduled to open in Q2, 2022 in North Ubud. Part of the Banyan Tree Group, the 16-villa resort embraces an innovative approach to tropical hospitality. The Escape embodies a "no walls, no doors" credo as a boundless precept on how Buahan strives to redefine the basics of service and style, thereby forming a quietly seductive invitation to a "different way of being."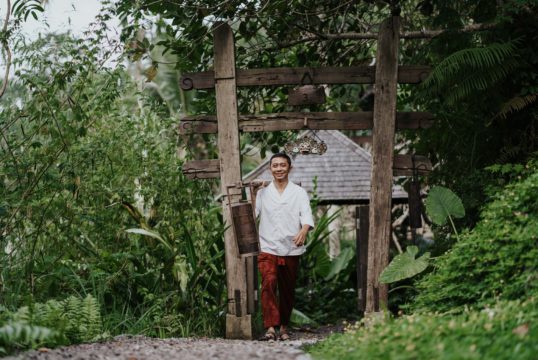 The Open kitchen and living room areas are at the heart of the Escape, created to foster feelings of camaraderie and community. The resulting conviviality is the perfect starting place to discover how the resort reinvents food and drink basics using a unique zero-waste farm-to-table concept, relying on local sourcing and culinary heritage. The menu is 70% plant-based, with most ingredients cultivated within a one-hour drive from the property.
The Botanist Bar also uses many locally-grown natural ingredients and botanical flavors infused into refreshing beverages. The resort's Toja Spa borrows age-old well-being traditions from the surrounding Buahan Village delivered in an "open garden experience" that has been tried, tested, and approved by the award-winning Banyan Tree Spa Academy,
Guests will find themselves pleasantly awed during their stay as they discover the multitude of innovative design and finishing details surrounding them. These elements, lovingly sourced and crafted by talented design and management team members, include re-purposed Ulin "ironwood" taken from old boat jetties, hand-carved wood headboards, hand-smithed copper bathtubs, and natural dye soft furnishings. These are just some of the "wow-inspiring" touches that form part of the guest experience at Buahan.
But paramount among that which awaits travelers staying at Buahan is its excellent location. Hidden in a verdant nook surrounded by rice paddies and jungle, the resort overlooks a waterfall on the Ayung River. The sweeping view of seven mountain peaks dotting the 180-degree panoramic horizon – epitomize what the resort's creators call "The Naked Experience," where only a thin veil separates each beholder from nature.
Echoing the Brand Philosophy of Banyan Tree Escape
Buahan – a Banyan Tree Escape is an exciting creative journey over the past 15 years to refine its design concept and philosophy in preparation for its 2022 debut. The product of a deep understanding of its vicinity, the resort's "naked experience" through a "no walls, no doors" design concept reflects the agro, religious, cultural, and artisan craftsmanship of the local Balinese lifestyle- a feature unique to this resort. This philosophy also echoes the resort's brand pillars of being connected to nature, embedded in the community, and providing a unique discovery experience that emphasizes learning.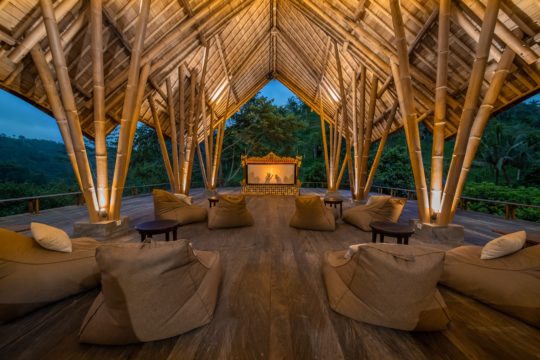 A Union of Wisdom for an Immersive Experience
Banyan Tree's head of architecture sits at the helm of this concept. By Dharmali Kusumadi, who designed the balés (villas) and other resort facilities, successfully brought life to the inspired vernacular architectural approach by employing unique design and construction techniques. Kusumadi teamed up with Gede Kresna, a recognized local architect whose focus is unwaveringly fixed on Balinese design and environmentally friendly and sustainable architecture.
This union of wisdom was the genesis of Buahan's design concept. Accordingly, Gede conducted a four-month study on the sociological, architectural, and cultural impact the resort would have within a 1-hour radius of the site. The research ultimately influenced the resort's personality and, at its core, guided Dharmali and Brand HQ team on how Buahan would involve guests in the resort's intensive connection to the surrounding community.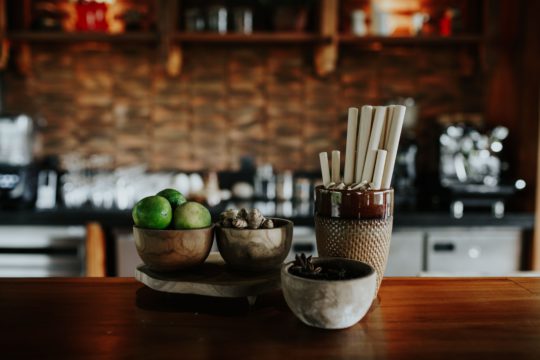 A Truly Balinese Inspired Approach
The fundamental notion behind the balé design was to construct a dwelling space that resembles a traditional Balinese house. All individual areas for living, sleeping, and bathing had to be incorporated within a single courtyard or compound.
Due to the resort's unique topography, the courtyard was replaced by a single-roofed open deck that houses the living room, bedroom, and bathroom with the signature "no walls, no doors" concept, seamlessly merging these areas and creating a thin veil between guest and nature.
Buahan, a Banyan Tree Escape – offers a remarkable journey for those seeking to commune with nature, immerse in meditative reflection, or rediscover a close relationship.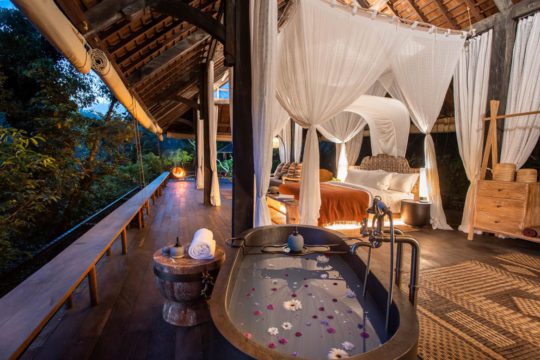 From Paper to a Unique Topographic Canvas
This journey formed the segue to a step-by-step process in which Dharmali and his team worked on taking a concept from paper to the unique topographic canvas of the resort. With blueprints in hand, one of the first steps was identifying viable locations for each balé. The absolute criteria remained: each location must be both scenic and private.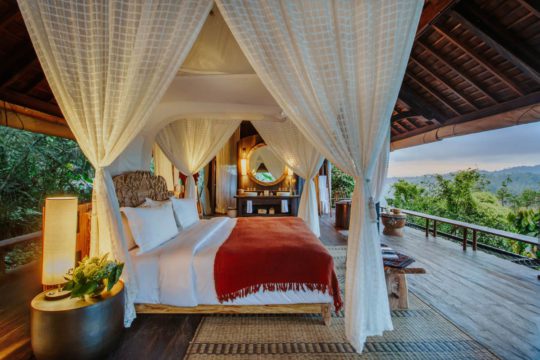 In "massaging" 16 balés into the enclave, adjustments were carefully made to blend structures into the landscape without compromising privacy and scenic beauty. In a painstaking process, the creators managed to achieve their goal of covering the stunning three-dimensional site.
Sustainable from Birth
Incorporating a sustainable approach started at the very beginning. The resort's design blends individual structures with flora and fauna, preserving the surrounding natural environment.
Ulin wood, also known as "ironwood," is a fundamental feature of Buahan's sustainable narrative and represents the backbone material in the resort's construction. Hailing from the Kalimantan region and previously used in boat piers and fishing boat decks, the hardwoods' innate resistance to insects and wood borers has made it the "wood of choice" for bridges, pilings, docks, sluices, and other maritime structures. While Ulin wood remains readily available and is a much-recycled material, nothing equals giving this marvelous wood a second life in the construction of Buahan.
Other natural, sustainable materials, like cultivated fast-growing bamboo, have been used in smaller structures on the property due to their flexibility, strength, and ability to duplicate organic shapes reflecting forms found in nature.
As well as using recycled materials like Ulin wood and fast-growing bamboo, the development team went a step further by forgoing the use of heavy machinery in the construction process. This negated the need to clear large areas of the dense jungle for such machines to operate. This throwback to yesteryear continued by using traditional techniques to fasten materials together, avoiding the use of non-recyclable materials. These actions surmise the resort's efforts to include sustainable practices.
Tree Escape's DNA.
Sculpted by hand and rich in artisan tapestry, the 16 balés incorporate art and design elements that drive and underline the sense of place. Artisans from Central Java hand-crafted the copper bathtubs found in every balé, forming a unique human fingerprint in the process. Further enhancing the rooms, each headboard and the borders of the vanity mirrors were exquisitely sculpted by local Balinese carvers creating uniquely individual patterns for each of the 16 private pool balés.
Reflecting and Respecting Local Culture and Heritage
A core brand operating tenet of Banyan Tree Escape is being "Embedded in Community." A reciprocal relationship exists between property and the surrounding society. In its quest to blend in with nature and society, Buahan strives to impact its neighbors minimally. The resort's acceptance into the local community is exemplified by its membership in Buahan's Subak Community – a UNESCO-recognized initiative that seeks to protect the cultural landscape of Bali through the ancient Subak water management system – a manifestation of the Tri Hita Karana philosophy. The resort has kept and improved two traditional irrigation Subak Channels that run through the site, showing respect for the area's indigenous inhabitants and a desire to impact the community positively.
Nature's Harmony and Symphony
Toja, meaning water, forms the essence of Buahan – a Banyan Tree Escape. Banyan Tree pioneered the Garden Spa Concept. As a brand extension, Banyan Tree Escape returns to the basics of sensory perception of the surrounding environment. Rather than having a centralized Spa Complex, Toja Spa's Pavilions are scattered throughout the property, celebrating an exclusive adventure in each location with unique views, sounds, sites, and smells for guests and simultaneously honoring local healing and well-being techniques.
One Like no Other
Continuing a novel adventure, the developers accepted the opportunity to do something new. Although the panoramic views were wondrous, the question arose: How could one capture the sounds of Buahan and visually represent them, making the invisible visible?
Cue in: Singapore-based studio, Parable. The new partnership garnished Parable's Sonic Branding Approach to develop Buahan's logo. The team made a sound recording at the crack of dawn and, by deconstructing the data of sounds, reassembling, and translating it through cymatics—the study of visible sound and vibration, transformed the nature of sound into a visible mark seen as the brand logo today, introducing a new way of seeing.
Beginning at the End – By Dharmali Kusumadi
Describing the creative process that gave birth to Buahan – A Banyan Tree Escape, Dharmali Kusamadi detailed the discovery of the one-of-a-kind location for the resort. Kusumadi said: "Together with Pancho, we visited almost 20 sites, none of which felt special or satisfied our criteria for a project. Regardless, we shortlisted three or four sites to show Mr. Ho Kwong Ping, our chairman, who would join us in a few days. After visiting all the sites, we concluded that none embodied the x-factor we wanted."
Dharnali added: "On the last evening, our land agent approached us with one last site to visit. He mentioned it was a bit far but had an extraordinary view of seven mountains. Though somewhat skeptical, we agreed to visit this site the following day. At the crack of dawn, we arrived to behold a magical view of the seven mountains skirted by a forest reserve, which would disallow future developments that could ruin the view. The Ayung River weaved through the dense jungle at the site's base, embellished with a beautiful waterfall only accessible from the site. We realized that we had stumbled on the beginning of a new adventure that unknowingly, one day, would become Buahan – a Banyan Tree Escape. I often reminisce about that moment and realize how far we have come since and the bright future for Buahan."
For More Information and Bookings
Visit Buahan, a Banyan Tree Escape's Website for more information and reservations.
Buahan – Banyan Tree Escape on Instagram
About Banyan Tree Group
Banyan Tree Group ("Banyan Tree Holdings Limited") is one of the world's leading independent, multi-branded hospitality groups. The Group's diversified portfolio of hotels, resorts, spas, galleries, golf, and residences is centered on five award-winning brands: Banyan Tree, Angsana, Cassia, Dhawa, and Laguna. All offer exceptional design-led experiences for global travelers of today and tomorrow.
Founded in 1994 on the core concept of sustainability, Banyan Tree Holdings seeks to create long-term value for all stakeholders and destinations across its network of properties, products, and brands, through a purpose-driven mission. With 7,800 associates across 22 countries, Banyan Tree Management Academy (BTMA) was established in 2008 to support the Group's goals through advancing people development, management excellence, and learning with integrity and meaning.
Banyan Tree Holdings has received 2,759 industry awards and accolades since its inception. It has also received recognition for its commitment to environmental protection and community development through its Banyan Tree Global Foundation (BTGF), which aligns the Group's efforts with the UN Sustainable Development Goals. The Group's global footprint continues to grow, with 35 new hotels and resorts under design and construction in the pipeline and 48 operating hotels in 13 countries as of 31 December 2020.
Banyan Tree Holdings entered a long-term strategic partnership with Accor in 2016 to develop and manage Banyan Tree branded hotels around the world and enjoy access to Accor's Global Reservations and sales network and the loyalty program ALL – Accor Live Limitless. The Group also formed a joint venture with China Vanke Co. Ltd. in 2017 – focusing on active aging and wellness hospitality projects.