Tribun-Bali.com recently shared a list of seven favorite eateries and menu items to enjoy a low-cost, local breakfast.
Easy to locate, affordable, and the secret on why the Balinese start every day with a smile, here's a helpful list of local breakfasts and lunch spots, including their Google Map locations.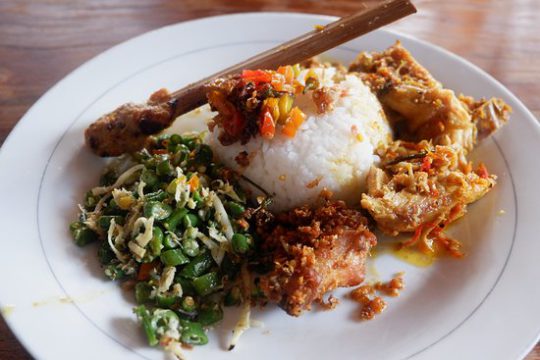 Nasi Ayam Bu Oki
Jalan Celagi Basur No. 3Y
Jimbaran, Kuta Selatan
The specialty of Ibu Oki's house is Nasi Ayam Betutu – a savory helping of chicken cooked in traditional betutu spices.
Open daily from 8:00 am until 9:00 pm.
One hearty portion of Ayam Betutu, a side portion of fried vegetables, a boiled egg, and the traditional spicy condiment of "sambal" – all set atop of helping of steamed rice will set you back around Rp. 35,000.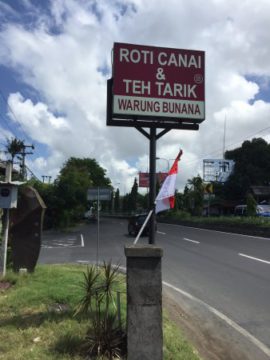 Warung Buana
Jalan Sunset Road No. 28
Kerobokan Kelod, North Kuta
Warung Buana, a favorite among Bali visitors, offers a "snack approach" to eating breakfast in Bali. Not to be missed is the Peranakan-inspired Roti Canai – fried bread smothered in Indian curry or selected savory fillings. For breakfast, Roti Canai should be accompanied by a hot glass of "teh Tarik" – hit tea served with a ceremonial elan that puts English "High Tea" to shame.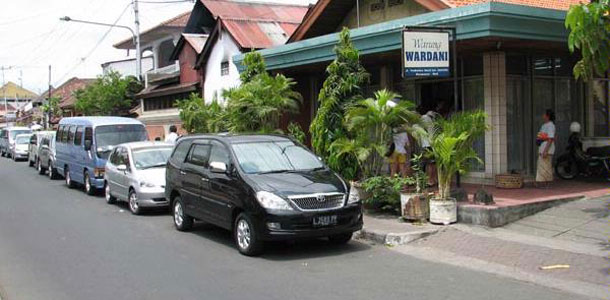 Warung Wardani
Jalan Yudistira No. 2 – Dangin Puri Kuah
North Denpasar
Open daily from 08:00 am untuk 4:00 pm
Warung Wardani is a dining spot frequented by businessmen, homesick students longing for their mother's cooking, and even the occasional minister of state. Located in the family home of Ibu Wardani that houses both the restaurant and a student hostel, it's hard to determine when Warung Wardani first opened its doors. However, we know a retired tourism executive well into his 70s who says he stayed and ate here in his student days a half-century ago. Another tale tells how in the 1980s, a major international airline would regularly purchase 50-100 boxed lunches from "Bu Wardani," fly them to Jakarta and hurriedly deliver them in time for lunch to appreciative travel agents across the Indonesian capital.
Warung Wardani is a simple restaurant serving delicious Balinese Nasi Campur – white rice with a range of complimenting vegetable and "halal" meat items.
Please note that parking is limited.
Warung Wardani also serves Gado-Gado – the blanched local salad slathered in a spicy peanut sauce; Soto Ayam (chicken soup); Soto Babat (chicken or beef offal soup); and Nasi Kare (curry and white rice).
Depending on ingredients and tasty condiments selected, a satisfying bowl of Nasi Bali from Warung Wardani can cost around Rp. 50,000.
If you discover yourself racing to the Airport in Bali without having had the chance to fit in a visit to Warung Wardani, don't lose hope! There is now a branch of Warung Wardani serving the same delicious menu on the entrance road to Bali's Ngurah Rai Airport.
Warung Wardani Tuban on Google Maps.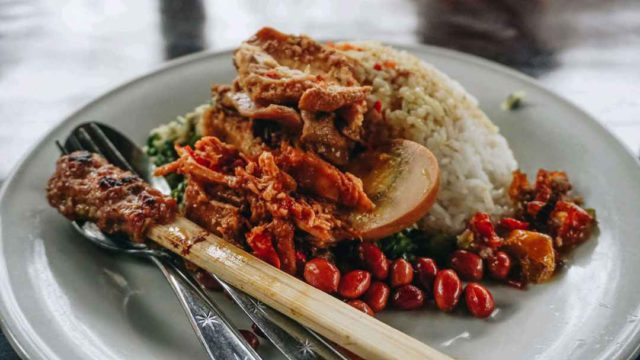 Warung Nasi Ayam Kedewatan Ibu Mangku
Jalan Raya Kedewatan No. 18
Kedewatan – Ubud, Gianyar, Bali.
Open Daily from 08:00 – 7:00 pm
Another fabled locale for "Nasi Bali" or "Chicken and Rice" (not to be confused with Chinese Chicken Rice) is Warung Nasi Ayam Kedewatan Ibu Mangku, located on Kedewatan Ridge just past the three-way intersection that leads to downtown Ubud.
Invariably busy and very affordable, this restaurant offer "halal" Balinese dining with a range of chicken dishes and satays, Balinese steam vegetable, boiled eggs, and long beans.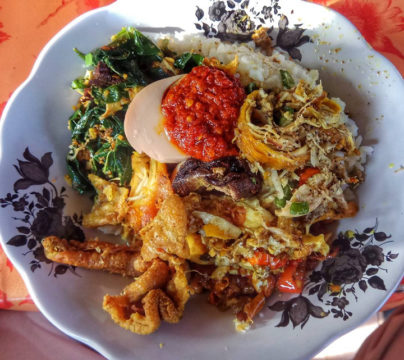 Nasi Campur Men Weti
Jalan Letda Reta No, 52 – Dangin Puri Klod
East Denpasar
Open Daily from 07:00 am until 12:00 noon
Included among any list of legendary warungs in Bali, Nasi Campur Men Weti sits on a side street in the northwest corner off Denpasar's Niti Manala Square. Simple, affordable, and halal, Nasi Campur Men Weti offers Balinese sate lilit, sayur pare (bitter melon), fried peanuts, and boiled eggs.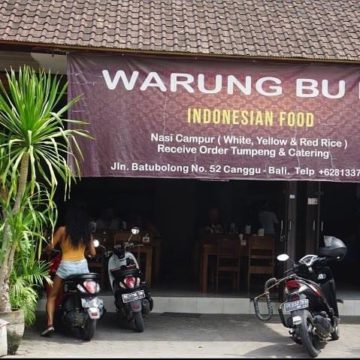 Warung Bu Mi
Jalan Pantai Batu Batu Bolong No. 52
Canggu, North Kuta
Open Daily from 08:00 until 10:00 pm
Conveniently located for the "new age" flock in Canggu, Warung Bu Mi, offers an extensive Indonesian menus and side dishes on a "mix and match" basis served alternatively on white rice, red rice, and fragrant yellow rice (nasi kuning).
What's not to like?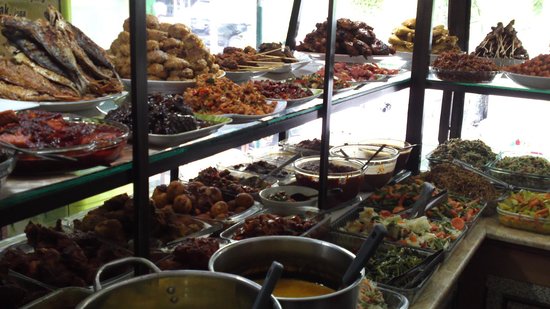 Warung Nikmat Kuta
Gang Bakung Sari, Tibubeneng
North Kuta
Open daily from 08:00 am until 8:00 pm
Popular with locals and expatriates – Warung Nikmat Kuta is a delicious and affordable place for breakfast, lunch, and dinner.