After ceasing operations for two years because of the COVID-19 pandemic, "Car Free Day" has returned to the Niti Mandala Hero's Monument Field in downtown Denpasar once a week.
On Sunday, 18 September 2022, the four-lane road on Jalan Niti Mandala was closed to vehicular traffic from 6:00 am until 10:00 am. Like Sundays before the pandemic, "Car Free Day" was suspended two years earlier, ending an event where the public often turned out to walk, run, exercise, and ride bicycles.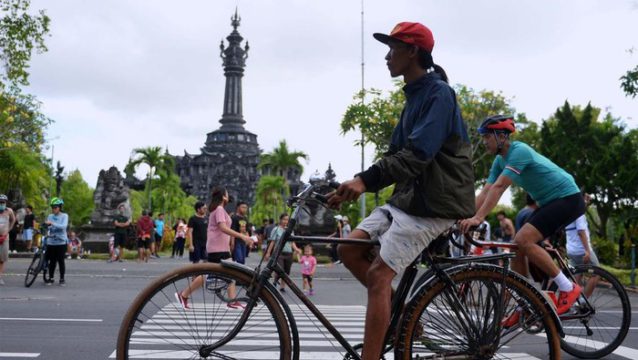 Quoted by the National News Agency Antara, a Denpasar resident Koming Sukerti (48), who was jogging on the roadway with his family, said: "I am delighted (at the reopening) because I have long wanted to use our free time to exercise with my family, but this was not possible until the road was reopened again for our use on Sundays. I hope that 'Car Free Day' (CFD) will continue, so there is a place for young people, families, and people like me can again perform exercises in public.
Another member of the public from Desa Lebih in Gianyar, Eka Putra Hamanda (24), said, "I enjoy the CFD that has been absent for two years and hope it will continue every Sunday morning." He expressed his wish that the activities on the roadway and the adjoining park could also be expanded to include culinary contests, clothing exhibitions, and children's games.
On Sunday, 18 September 2022, Dewi Wahyuni, who operates the Yan Renon Food Stall, reported that between 6:00 am and 10:00 am each Sunday, she targets to generate a turnover of Rp. 3 million in food Sales.
Each Sunday, 60 personnel from the Transportation Department (Dinas Perhubungan), Bali Police, Satpol PP, and Pecalang will be on hand to safeguard the CFD.