The Alila Seminyak has appointed German national Christiane Ferger as general manager of their 176 suites and room beachside property on Seminyak Beach in Bali.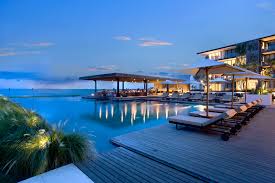 Ferger brings 30 years of hospitality industry experience in a role where she has been assigned "to support the team to continue adapting and growing in the midst of changes in trends that come after these challenging times."
Beginning her professional life in an internship program at a hotel in Germany, Christine discovered her hospitality industry calling, concluding that work in the hotel sector awakened a lively self-energy, diversity, and dynamic daily pace in a setting where even a simple gesture or helpful act could make someone's day.
After formally beginning her career in 1989 with Hilton Hotels & Resorts, Christine spent 26 years working with Hyatt. In 1996, she became Assistance Banquet Manager at the Hyatt Regency Cologne. Over the next 24 years, she steadily progressed, working in food and beverage, events, sales, and rooms and management roles in assignments with Hyatt Regency Cologne, Park Hyatt Saigon, Grand Hyatt in Dubai and Tokyo. In 2020 she was entrusted as Acting General Manager at Grand Hyatt Tokyo, where she supported programs marking the enthronement of the Japanese Emperor that welcomed 13 heads of state and accompanying delegations.
She also worked at The Grand Hyatt Tokyo, an official International Olympic Committee (IOC) Hospitality Venue during the 2020 Tokyo Olympics.
In 2022 Christine Fergers moved to the role of General Manager of The Alila Seminyak Resort, marking the second time a female has been appointed to head a Hyatt Hotel in Indonesia.
Christine shares the passion for her chosen field of employment by supporting the "Woman@Hyatt" initiative – a program that seeks to empower women colleagues and help develop their careers.
When not busy operating the 5-star Alila Seminyak Resort, Christine's leisure time activities include gardening and Pilates.
Related Link