The State News Agency Antara reports that Citilink Indonesia – the low-cost subsidiary of Garuda Indonesia, has recommenced flights connecting Bali and Dili, Timor Leste.
The General Manager of Bali's Ngurah Rai International Airport, Handy Heryudhitiawan, said: "The return of the Denpasar-Dili route will positively affect both Indonesia and Timor-Leste, accelerating the revivals of the tourism sector in both countries."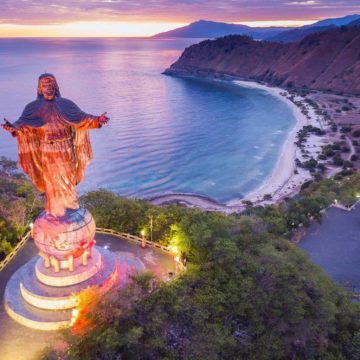 Initially, the Bali-Dili flights by Citilink will operate every Monday and Friday, departing Denpasar at 9:25 am and landing in Dili at 12:20 pm local times.
The return leg using Airbus A320 aircraft will depart Dili at 1:20 pm.
The resumption of the Bali-Dili service by Citilink brings to 20 destinations served on direct flights from Bali in 11 countries, flown by 19 airlines.
For June through 12 June 2022, Bali's Airport served 126,356 international passengers at an average of 10,529 passengers per day. For the previous month of May, Bali handled 109,118 international passengers. Ngurah Rai International Airport recorded a post-pandemic record of 1,006,662 domestic and international passengers for May 2022.
Continuing, Handy commented: "The number of international air passengers at Bali's Ngurah Rai International Airport continues to increase, in keeping with the (increasing) number of (international) routes being resumed. As the airport operator, we are very enthusiastic about this development."
The CEO of Citilink Indonesia, Dewa Kadek Rai, welcomes the restart of the Bali to Dili air service that will support business and tourism travel. Adding: "We hope that the new service will become a new beginning for the recommencement of Citilink's international flight network, contributing to the recovery of the general economy and international tourism."
Related Articles and Links
Bali Airport Handled 1 Mn Paxs in May
Dewa Kadek Rai New CEO at Citilink